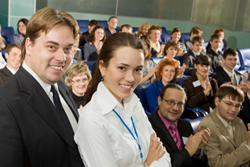 Spectrum is excited to be able to fulfill the safety training needs of the whole state of Illinois
Chicago, IL (PRWEB) March 31, 2014
With the new training center's negotiation progressing steadily, the center may be ready to open in June 2014 as scheduled. Spectrum (http://www.illinoisoshatraining.com) saw the need for this training center in addition to the on-site safety training, due to growing need for OSHA and food safety training on the Northwest side of Chicago. This training center will serve clients from any city in the state of Illinois.
OSHA Safety Training Service:
Spectrum's safety and health training in workplace safety is shown to reduce occupational injury, illness rates and workplace-related deaths. The company offers 10-hour OSHA training for employees and 30-hour OSHA training for employers, managers, supervisors, human resources personnel, and risk management managers. Its mission is to provide effective training that leads to a decrease in job site injuries, accidents, and deaths.
Food Safety Training Service:
Spectrum Safety Training's staff have spent over 38 years in health care and education environments. Our food safety instructors are certified Food Safety Manager Instructors in the State of Illinois. Instructors are members of The Illinois Restaurant Association (IRA). We provide the latest safety and regulatory information to enhance the safety of food service environment, customer, and increase profitability of food industry business.
Spectrum food safety classes are nationally approved and designed to teach the food service managers and food handlers all aspects of food service sanitation from purchasing to serving the customer.
Utilization Review Services:
Spectrum's utilization review services support the right care at the right time in the right place. All our utilization review nurses are registered nurses (RNs) and are CCM or ACM certified. All hold a Bachelor of Science in Nursing (BSN), and most hold Master's degrees. Our nurses have acute care experience as well as clinical experience in a variety of health care settings.
To find out more about Spectrum Services, go to http://www.spectrumtrainingservicesinc.com
You can also contact Spectrum Safety Training, Inc. at 877-366-0611
About Spectrum Services:
Spectrum Training represents a combined 38 years of training experience and has grown to become the premier provider of OSHA safety training, food safety training, and utilization review service providers. Spectrum Safety Training's staff have MBA, MSN and ACM. Each of our trainer went through extensive training and have certificates as OSHA Safety Trainer, Food Safety Trainer, and Utilization Review Manager.