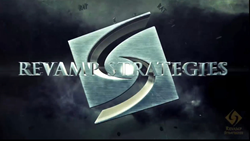 Apply Force As Necessary...
Atlanta, GA (PRWEB) March 30, 2014
Revamp Strategies has created another visually stunning and captivating digital asset to add to their already impressive collection. Their newest video titled: "Revamp Strategies - Online Video Marketing at it's Best ! Boom !!" was created in-house and is meant to be an exciting ride.
Charles E. Anderson, Chief Operations Officer, says, "Making this video was so much fun! We were so excited, that once we thought of the idea and nailed down the concept, we didn't even see the time fly bye."
When asked how long it took to create the video, he responded with, "We do not think in terms of time here, but more about how much effort is necessary to complete the given task." Charles continues, "To create any digital asset requires a collaborative effort by a cohesive team that works efficiently together. Once the goal has been set and the competition/threat has been assessed, we simply apply more effort or force where necessary to dominate the objective." Charles continues, "We apply that same theory to every aspect of our business and our services."
Suddenly realizing that he did not answer the question, he looked at me and said, "Four days... I would have to check with accounting to see how many man hours, but four days from the day that we decided to do it." When asked if that was their normal turn around on a project like this, Charles simply smiled and said, "Apply force as necessary..."
Revamp Strategies is an online marketing company located in Atlanta, GA with a second office located in Baltimore, MD. They provide customized online marketing solutions for your product or service. Visit them online or contact them directly.