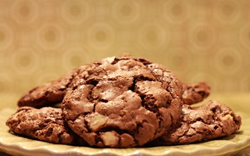 Careful reading of the labels on sweets is essential year-round but especially important during the Easter season, says Carol Fenster, an expert in gluten-free cooking.
(PRWEB) April 01, 2014
Careful reading of the labels on sweets is essential year-round but especially important during the Easter season, says Carol Fenster, an expert in gluten-free cooking and author of Gluten-Free 101: The Essential Beginner's Guide to Easy Gluten-Free Cooking.
"People who avoid gluten know to choose the gluten-free versions of baked goods such as cakes, cupcakes and cookies. But the simple sweets that are added in or placed on top of those gluten-free treats may contain gluten," says Fenster, who has learned to be wary of seemingly harmless desserts—especially during seasons such as Easter where celebrations emphasize sweets—after avoiding gluten for 25 years.
Here are three treats that she has learned to examine carefully before eating.
Licorice Candy.
Licorice candy is often used as a decoration on the tops of baked items such as cakes, cupcakes, and cookies. For example, it may form the "whiskers" on a whimsical Easter bunny cake. While licorice may seem harmless, the base of most licorice is actually wheat flour which gives the candy— usually the familiar black or red color in a string or twisted shape—its body. Few people realize that the licorice flavor itself comes from an extract. So, even if the baked item itself is gluten-free, be sure to read the label on the candy that decorates it, Fenster cautions. There are a few gluten-free brands of licorice candy on the market, she adds, so seek them out.
Chocolate Chips.
Chocolate chips are a typical ingredient in chocolate chip cookies, but they are also stirred into cake batter or used on cakes and cupcakes as a decoration. They may even be spread on a still-warm gluten-free cake to form a light frosting. While most chocolate chips are gluten-free, there are some that are sweetened with grain—rather than sugar—and this grain is typically derived from barley malt. Since barley is a gluten-containing grain it means that these grain-sweetened chocolate chips contain gluten.
It is important to read the label on the chocolate chip package, says Fenster. If the chocolate chips are sweetened with barley malt, the ingredient list should include the word "barley" or "barley malt" but the obvious clue to potential gluten is the term "grain-sweetened" if it appears anywhere on the package.
Cake Frosting and Decorations.
Most cakes are served with some sort of adornment, such as frosting or store-bought decorations that spell out the name of the honoree or the theme of the event—such as a birthday. The cake itself may be gluten-free, but some commercial frostings may contain wheat flour as a thickener to achieve a spreadable consistency or to make sure the frosting sticks to the cake. In fact, there are some boiled frostings that are made predominantly with wheat flour, Fenster cautions. And, check the labels on the numbers and letters that spell out names and ages on birthday cakes to make sure they are gluten-free.
Finally, says Fenster—even if the ingredient list gives no indication of gluten as an ingredient—make sure the candies, frostings, and decorations are manufactured in a plant where cross-contamination is carefully controlled. And, "if you are not confident that there is no cross-contamination, it is best to avoid that product," she concludes.