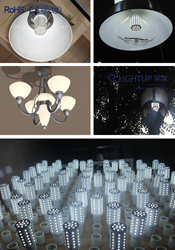 (PRWEB) March 31, 2014
The LED lights from LIGHTUP LED come with a lifetime warranty and this is why some many customers buy their LED products. Today, the company releases its new product, 36W high power LED corn light, and launches a special offer on this model.
LIGHTUP LED's products are very popular on the market. According to the spokesman for the company, this new model is professionally designed by a British designer, and it can meet commercial or home lighting requirements in varied circumstances, including but not limited to home, hotels, schools, hospitals, factories, high ceiling buildings.
"It's perfect if you are making beautiful toy models or photographing someone. We are happy to provide innovative energy efficient, economical LED lights and bulbs for our customers worldwide. We pride ourselves in making the transition from conventional lights to the next generation of lighting affordable for everyone."
Along with LED corn lights, the business offers a lot of LED bulbs, which are more cost-effective than CFLs or incandescent bulbs. The company strives to apply new technologies to better improve their products. It promises to use the newest LED technology for maximum light quality and reliability. On the company's website, consumers can find hot-sale models on the market.
About the company
The company has been in the industry for over 8 years. The company focuses on the R&D and manufacturing of all types of LED lights. The company tailors lighting solutions to the customer's budget, without sacrificing quality. Great product quality, premium customer service and competitive pricing are the reasons many customers worldwide choose this company.
For more information LED corn lights, please contact LIGHTUP LED at: http://www.laitalight.com/Products/led-maize-corn-light.html.