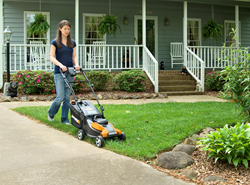 'Battery technology, performance characteristics and design of cordless mowers has vastly improved over the years,' said Brandon Martin, WORX product manager.
Charlotte, NC (PRWEB) March 31, 2014
Factor the cost of gasoline versus the cost per kilowatt hour to charge the mower's battery, and the choice is obvious, according to WORX®, a leading manufacturer of green outdoor power equipment.
"Battery technology, performance characteristics, and design of cordless mowers has vastly improved over the years," said Brandon Martin, WORX product manager. "WORX has a lawnmower to fit every urban and suburban lot in America. Even homeowners with larger properties can benefit by just adding a second battery for additional run time."
For example, the WORX compact 14 in. lawnmower weighs only 32 lbs., which is less than half the weight of a conventional mower. When fully charged, the mower cuts up to 10,000 sq. ft., which is roughly the size of two tennis courts. Plus, it's loaded with features, including WORX exclusive IntelliCut™ system.
IntelliCut is a torque-on-demand system that monitors torque versus cutting performance — no more bogging down when mowing tall or thick grass. Homeowners simply turn the dial to POWER when conditions call for more torque or QUIET for everyday conditions.
The WORX WG782 IntelliCut mower has a mulching blade and 3-in-1 mower deck to mulch, bag or discharge grass clippings. The ergonomically designed mower has a Euro-styled housing with a foam-padded comfort handle that's fully collapsible for compact storage.
There's no pull cord, choke or gas tank to fill. The compact mower features two-sided electric starting/safety levers. The two-sided levers are handy when trimming in tight areas around flower beds, trees, shrubbery and lawn ornaments.
The mower is powered by a 24-volt, lead-acid battery with a charge level indicator. It's removable from the mower deck's housing for charging and storage. Battery charging time is four to five hours.
In fact, WORX cordless mowers feature 75 percent less noise when compared to most gas-powered lawn equipment.
For larger lots, WORX offers 17 and 19 in. push mowers and a self-propelled Pacesetter model that automatically adjusts its speed to the pace set by the operator. These mowers have 24 volt and 36 volt batteries, respectively.
The IntelliCut mowers are equipped with multiple height-of-cut adjustments, including 1.8 in., 2.6 in. and 3.3 in. They even have a grass bag level indicator to alert the operator when it's time to empty the bag.
Standard equipment on the WORX IntelliCut mowers includes one battery and charger, mulch insert, rear or side-discharge chute and grass bag. The mower wheels are rubberized for smooth operation in all conditions. WORX lawnmowers feature a three-year warranty.
The WORX 14 in., 24V Mower with IntelliCut(WG782, $229.99); 17 in. deck (WG787, $299.99) and 36V models WG788, $429.99; WG789, $529.99) are available at http://www.worx.com and retailers including Lowe's, Menard's and Amazon.com.
Follow WORX on Facebook: https://www.facebook.com/worxus?ref=hl, Twitter: https://twitter.com/WORXTools, Pinterest: http://pinterest.com/worxtools, Instagram: @WORXTools and Vine: @WORXTools.