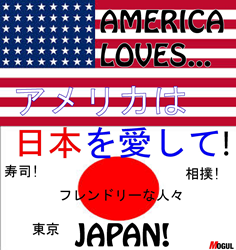 Once you've been to Japan, it stays with you forever.
Los Angeles, California (PRWEB) March 31, 2014
"America Loves... JAPAN!" is the 16-part series currently in production for Japanese TV. The series is described by Mogul Films' CEO, Darron Morris, as a "love letter" to a country in which he had lived for over three years. "Once you've been to Japan, it stays with you forever," states Morris.
The series features videos, made by Americans demonstrating and describing their passion for Japanese culture: food, anime, J-pop, sumo, ikebana (flower arrangement), origami (art of paper folding), shodo (calligraphy), bonsai (miniature tree cultivation), sado (tea ceremony), etc. "My favorite has always been the people," Morris asserts.
Mogul Films has created a KickStarter campaign for those wanting to express their affection for the "Land of the Rising Sun." Several rewards are being offered in return for support and participation, including signed DVDs, authentic movie wardrobe, private online screening of the premiere episode and more.
Self-filmed submissions by KickStarter backers will be included in the series, depending upon the amount pledged. "This gives everyone the chance to display their talents and their love on TV directly to a country that has suffered catastrophic devastation recently."
Japan suffered a cataclysmic earthquake, tsunami and nuclear disaster in 2011, from which it's still recovering.
For more information on Mogul Films' KickStarter campaign, click here.
About Mogul Films:
Independent motion picture production company Mogul Films was founded in 1998 as Vision Filmworks in Los Angeles California by founder Darron Morris.
The company's first production was the feature, Sweating the Small Stuff, starring Kathleen Luong (Two Day in the Valley) and Darron Morris, with a cameo from Walter Jones (Mighty Morphin Power Rangers). The movie was filmed in January 1999 in 16mm, in just one week. Sweating the Small Stuff was shot for $1,000 and filmed in the Los Angeles-area (permit-free).
Mogul Films new film, An Incident in San Ysidro is now available on DVD. For more information, visit Mogul Films.