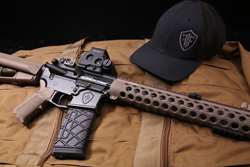 Fresno, CA (PRWEB) March 31, 2014
At this very moment, firearm manufacturing machines run 'round the clock to fulfill the needs of those who seek the best firearms and accessories the industry has to offer.
It is no surprise in the world of American manufacturing that the demand for quality firearms and accessories far outweighs the production capacity of those who supply them. Full Spectrum Firearms (FSF), an Internet retailer and brick and mortar firearms superstore, is a manufacturer pledging to unite all aspects of the firearms industry. Their website, fullspectrumfirearms.com, boasts a streamlined method to complete custom gun work in addition to highly competitive pricing on all products. Full Spectrum Firearms' brick and mortar 5,400 sq. ft. superstore engages new customers with knowledgeable customer service and superb prices. Their most requested services include custom gunsmithing, retail product sales, firearm manufacturing, and tactical training (if you're lucky enough to live near Fresno, CA).
Full Spectrum Firearms is looking to supply those who seek the best quality money can buy and offer retail prices only few can match. Where iconic firearms and products are generally born of military and law enforcement necessity and then trickle down to the general public, FSF has pledged to give any law-abiding citizens first shot at their cutting-edge products.
The innovators at FSF launched their first product in November of 2013, and have dubbed it the Trident-15. At first glance, the Trident-15 may appear to be just another version of an AR-15 platform, however this one truly breaks the mold. Their stock model comes with added features such as a winterized trigger guard milled from 7075 T6 billet aluminum, an upper to lower fitment screw (eliminating any potential play in the upper to lower fit), and a bolt catch set screw. In addition, it includes a rear take down detent set screw, a set screw for trigger over travel adjustment, customized grip chevron on the front of the lower receiver, and a beveled magazine well designed to increase reload speeds. Combine those features with a non-conventional, raised 3D Trident logo on the receiver and you have one epic firearm! The Trident-15 base model starts out at an MSRP of $949.00 and all FSF manufactured products come proudly with a lifetime warranty.
If you're not in proximity to their physical store, take a look at fullspectrumfirearms.com. The Full Spectrum Firearms name seems to describe the company in a nutshell. It's a great marriage of manufacturer and gunsmith, and also a large online resource for firearm and accessory needs.
Keep an eye on their website to see what innovative, new products are being introducing to the public.