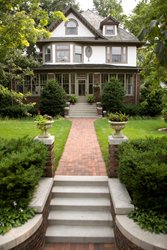 "First impressions are everything, especially if you're thinking about selling," said Karen Filloon of Southview Design. "It can determine whether your home is a drive-by or a must-see."
Minneapolis, MN (PRWEB) March 31, 2014
With spring-like weather on its way, Southview Design has several easy landscaping ideas for homeowners who want to increase their home's curb appeal.
"Whether you're planning on selling a home or staying put, putting time and money into the front landscaping is a great investment," said Karen Filloon, a landscape designer with Southview Design. "First impressions are everything, especially if you're thinking about selling. It can determine whether your home is a drive-by or a must-see."
According to the Minneapolis Area Association of REALTORS® (MAAR), the Twin Cities is in a seller's market, because the demand for homes far outstrips the supply of homes currently for sale. In fact, MAAR reports that the inventory of homes for sale is at an 11-year low. Although the average sale price of a home in the Twin Cities area is up 12.6 percent over last year, homes that are in "move-in" condition tend to sell faster and for more than those that need a lot of work, according to real estate professionals.
Filloon said that early spring is the best time to take a good look at your front yard from across the street to see the big picture. Do the exterior and/or front door need to be painted? Are the driveway, front walk and steps in good repair? Are the front walkway and doorway well lit and inviting?
After you take care of the hardscape basics, it's time to address your home's front landscaping. Filloon has three key tips for using landscaping to increase the curb appeal of your home:
1. Replace overgrown or badly pruned shrubs and small ornamental trees.
2. Top-dress the plant beds with a fresh inch of hardwood mulch.
3. Add 'pops' of seasonal color in the front beds or container gardens near the front door.
"Of course, taking care of your lawn is a must," Filloon said. "Avoid the temptation to irrigate in the spring just to get the grass growing. Allow it to green up naturally. Mow frequently but avoid scalping, and don't start to irrigate until the dry conditions of early summer cause turf wilt."
Filloon also said that if the lawn is beyond repair, the fastest way to fix it is to start over again with fresh sod. However, she said that fresh sod or a freshly seeded lawn may take several weeks of special care before it's well established, so it's important to get that started well before putting the home on the market.
For photos and front yard landscaping ideas, visit http://www.SouthviewDesign.com and the section on how to enhance the curb appeal of your home.
One of the largest and fastest growing landscaping companies in MN, Southview Design is expert in residential and commercial landscape planning, construction and design. Founded in 1978, Southview has completed over 5,000 landscaping projects. Listed among the top 25 fastest growing landscape firms in the U.S., Southview's landscape designs have garnered awards from the Minnesota Nursery and Landscape Association and the Minnesota Chapter of NARI. For more information, visit http://www.southviewdesign.com.