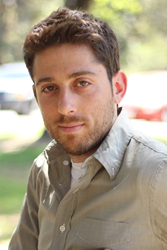 Los Angeles, CA (PRWEB) April 01, 2014
Filmmaker Maury Shessel has received the award for Best Sports Film at the Canada International Film Festival 2014 for his comedic take on track and field runners in Billy in Motion. Shessel is a graduate of the University of Southern California's prestigious School of Cinematic Arts, and Billy in Motion is his thesis film for his Master of Fine Arts. The film marks the first time Shessel has written in the comedic genre and he is the first to admit that writing comedy is very challenging. "Making comedy is a serious business," according to Shessel. "It's about the art of precision - establishing a consistent tone, timing the jokes, and making sure the audience doesn't get ahead of the characters."
Billy In Motion follows the exploits of high school track star Billy Matthews as he prepares for the biggest race of his young life. With less than a week before the big race, and after one dramatic finish too many, Billy finds he can only run in slow motion. As race day quickly approaches, hilarity ensues for Billy and his adversaries.
The awards panel's recognition of Billy in Motion comes at a time when visual storytelling is in a state of transition. In the modern era where cameras are commonplace on every smartphone, it is easy for anyone to make a movie, but the true visionary filmmakers are the ones who are storytellers – and Shessel is a storyteller. He is a very versatile filmmaker and has the ability to edit, direct, write, do color correction and computer animation, and on rare occasions even step in front of the camera. Shessel frequently weaves a social message into his work whether it is serious drama or oddball comedy.
When interviewed about the award, Shessel revealed that his own life experiences serve as his biggest influence when making movies. Having a life outside of filmmaking has given Shessel the foundation to tell a wealth of stories through the medium of film. Shessel served as an Army reservist for 9 years and during that time he also participated in over 20 marathons and triathlons. "It was only natural to make the leap and deliver a sports comedy based on racing," says Shessel. It was his own life experience that inspired him to write the story of Billy and put him in motion.
With this recent recognition, Billy in Motion is set to gain even greater attention. The film continues its festival run which has already touched California, Wisconsin, Oklahoma, and Canada. Billy in Motion is the latest work from Shessel who recently wrote and directed the Public Service Announcement (PSA) for CBS entitled "Help a Soldier Heal" and was featured in the CBS documentary, "The Power of the PSA." Shessel is also known for editing the award-winning short film, Unorthodox, which received the Spike Lee Student Film Award at the Starz Denver Film Festival.
Maury Shessel is based in Los Angeles and can be reached at 213.570.2492 or via email at maury(at)mauryshessel(dot)com. Fans can also learn more about Shessel at his website http://www.MauryShessel.com. Information about the 2014 Canada International Film Festival is available at https://www.canadafilmfestival.com/2014.