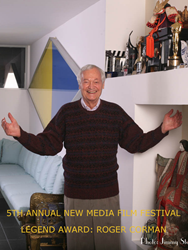 Roger said if you can fashion a car crash comedy I'll let you make that picture, it was the fastest green light I ever got. - Ron Howard
Los Angeles, CA (PRWEB) April 01, 2014
Susan Johnston, producer and founder of the New Media Film Festival, announced today that Roger Corman, the filmmaker, Honorary Academy Award-winner and pioneering producer/director/screenwriter/ actor, will be the recipient of the festival's coveted Legend Award. "We are proud and honored to award Roger Corman the New Media Film Festival's Legend Award for a long career of iconoclastic and memorable films and for also inspiring audiences and helping to launch generations of successful filmmakers with his groundbreaking approach," said Johnston. The award ceremony will take place during the closing night of the 5th Annual New Media Film Festival on Wednesday, June 11 at 9:00 PM at the Landmark Theatre.
Roger Corman remains a master of low budget film as the so-called King of the B-movies, but he also set the standard for the quality of how small budget films could be made. His films adapting the work of Edgar Allen Poe have earned him critical praise and he was widely admired by the French New Wave film-making movement. Corman was the youngest filmmaker to have a retrospective at the Cinémathèque Française, the British Film Institute and the Museum of Modern Art. He's also generous with a sharp eye for new talent by mentoring and influencing many young film directors from Martin Scorsese, Peter Bogdanovich and Francis Ford Coppola to Ron Howard and Jonathan Demme. He helped launch the careers of actors Peter Fonda and Jack Nicholson, among countless others, and his experimentation with psychedelic techniques in The Trip, paved the way for Easy Rider.
"In addition to redefining production techniques, Roger Corman changed the pattern of film distribution," states Johnston. "His company, New World Films, distributed the precursors of the new American film movement and introduced American audiences to European classics such as Fellini's Amarcord and Bergman's Cries and Whispers." Johnston acknowledged, "Corman continues to remain relevant and inspirational to the thriving independent film movement to this day and there is no single individual more deserving of the New Media Film Festival's Legend Award than Roger Corman." http://www.NewMediaFilmFestival.com
"Corman deserves a presentation by another cinematic innovator and we are also pleased to announce that Academy Award-winning screenwriter/producer/director John Carpenter will be presenting the New Media Film Festival Legend Award to Mr. Corman." Johnston continued. "Erin Gray of Hereos For Hire was instrumental in reaching out to John Carpenter on behalf of the festival" - Johnston added.
The Legend Awards Ceremony and all events for the 5th Annual New Media Film Festival will be held at the Landmark Theatre (10850 W. Pico Boulevard, Los Angeles, CA 90064) on June 10-11. Tickets are available at: http://www.NewMediaFilmFestival.com.
The New Media Film Festival recognizes storytelling through new technologies and formats in all forms of media. Festival founder/director Susan Johnston is an award-winning producer and speaker on new media, social media and incremental monetization in the digital space. The common thread of festival entries and honors are stories that exemplify the power of the cinematic arts to inspire and transform. The festival honors stories worth telling created by all ages, all cultures and in all media.
Submissions accepted through May 1st, 2014. Each submission is considered for screening, distribution and competition with $45,000 in awards.
The judging is done by industry professionals from Pixar, Fox, The Caucus, among other industry leaders. Each category has a winner in addition to one grand prize winner. Huffington Post said the New Media Film Festival "makes the cutting edge accessible." Movie Maker Magazine declares the festival is "worth the entry fee."
The Fifth Annual New Media Film Festival takes place at the Landmark Theatre on June 10-11. For news, panels, events and updates: http://www.NewMediaFilmFestival.com