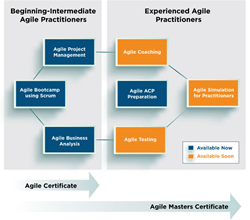 Watermark Learning offers multiple resources and paths for adding Agile and Scrum skills and capabilities.
Minneapolis, MN (PRWEB) April 07, 2014
Watermark Learning, a leading global provider of Business Analysis, Project Management, and Business Process Management certification training, announced today that it has a new Agile curriculum.
"Watermark Learning offers multiple resources and paths for adding Agile and Scrum skills and capabilities," said Watermark Learning's CEO Elizabeth Larson.
Like all Watermark training, she pointed out, "our Agile Project Management and Business Analysis courses are practical and engaging, which enables you to immediately apply the concepts and skills back on the job."
In fact, a recent Agile Fundamentals class participant rated it as one of the best courses around.
"The course clearly describes the complete picture of the agile process," the participant recalled. "I received course material ahead of time that allowed me to prepare for the course. The course is conducted in a light and easy manner that made it enjoyable - knowledgeable instructor."
Larson pointed out that to make the transition from the classroom to real-world projects even more effective, Watermark Agile coaches will partner with participants to ensure that the implementation of Agile meets the needs of the organization.
"Articles in our Resources Section and relevant Webinars and Presentations are additional resources available to keep your Agile skills sharp," Larson stressed, before adding, "Watermark Learning Agile Project Management (watermarklearning.com/courses/agile-training.php) and Agile Business Analysis training courses translate the evolving and complex Agile industry standards into practical application."
The company CEO noted that Watermark Learning's Agile courses are laser-focused for core Agile team members: Scrum masters, project managers, business analysts, product owners, Agile coaches, and software developers.
"Our courses develop all the skills required to be successful in an Agile environment, including planning, estimating, managing, eliciting, analyzing, and validating business needs and requirements," Larson said. "To provide you with maximum flexibility, our Agile classroom training is available as either open-enrolment public classes or as private onsite classes. For certification, we also offer an Agile Certificate and an Agile Masters Certificate for well-rounded learning and to demonstrate professional commitment." Certificates are issued in conjunction with Auburn University.
For more information, visit watermarklearning.com/training-modes/coaching.php and watermarklearning.com/resources/webinars/.
About Watermark Learning
Since 1992 Watermark Learning has provided training that turns the complexity of industry standards into practical application. Our courses are laser-focused to enhance performance for business analysts, project managers, and process analysts and lead to enduring results in organizations. Our interactive classes engage students to learn and motivate them to perform. Contact us at (+1) 952.921.0900 or 800-646-9362 (USA only), or visit http://www.WatermarkLearning.com.
Media Contact Details:
Richard Larson
7301 Ohms Lane, Suite 360
Minneapolis, MN 55439
Phone: (+1) 952.921.0900
Fax: (+1) 952.921.0901
Source: Watermark Learning
###