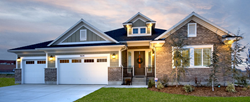 This year Ivory Homes begins our 27th year as Utah's #1 home builder.
Salt Lake City, Utah (PRWEB) March 31, 2014
In a recent interview, new Ivory Homes CEO David Wolfgramm talks about how Ivory maintains their record as the top home builder in Utah. Wolfgramm is replacing long time CEO Clark Ivory in June.
In a recent interview, David Wolfgramm, the new President and CEO of Ivory Homes, discussed how Ivory Homes has remained the number one home builder in Utah for 26 consecutive years.
Wolfgramm has been with Ivory for over 40 years and has taken many roles within the company, most recently as CFO. He is replacing longtime Ivory Homes CEO Clark Ivory who will resign in June to serve as a mission president in Romania and Moldova for the Church of Jesus Christ of Latter-day Saints.
"This year Ivory Homes begins our 27th year as Utah's #1 home builder," Wolfgramm said. "People outside of Utah wonder how we've managed to stay on top year after year. It's unheard of to have this strong of a record, not just in our industry, but in other things such as sports or in the business world."
Ivory Homes does it he says, by being 100% committed to the home building business. Forty years ago, looking at the top 10 builders in Utah, only 4 or 5 are still around today. Ivory has not only stayed in business but continues to grow in the state.
Wolfgramm says Ivory wants to learn what buyers want, listens to them and helps them through the entire buying process. The company has a wide range of prices starting at $150,000 to over a million. "We try to understand the needs of the consumer and adapt our product to fit. We're willing to customize homes to the needs of a person."
Ivory prides itself on building communities that are well located. Today it's a challenge to find land. As the building increases in the Salt Lake Valley where the majority of the population in Utah lives, the available land is shrinking. It's also much more competitive. "Many years ago Ivory could find land to develop that didn't have any special problems. Today there are water table problems, utility problems and pollution problems. We rely on the relationships we've built."
One of the most rewarding parts of the job for Wolfgramm is seeing people become repeat buyers and recommend the company to others. Some buyers are on their fifth or sixth Ivory Home. "We care about our homes but we care more the people who buy our homes. We care about how that home is going to be perceived after they close."
Last of all, Wolfgramm said Ivory has built success by giving back to the community and getting involved. "We support the Utah Food Bank and many agencies that deal with housing or the homeless. We give scholarships and send teams to help organizations or individuals with service projects."
That community spirit has created unity within the teams and allowed them to do so much good in the community. "This is what has made Ivory Homes the company it is today and will continue to be well into the future."
For the full interview see - http://bit.ly/1jToi75.
About Ivory Homes
Since its founding, Ivory Homes, Utah's Number One Home Builder, has continued to be the most successful homebuilding company in Utah. Ivory Homes has been Utah's Number One Homebuilder for 26 consecutive years, developing quality communities since 1964. Ivory Homes is currently developing new communities in over 50 locations along the Wasatch Front and Southern Utah.
For more information, call (435) 986-6900 or visit http://www.ivoryhomes.com.