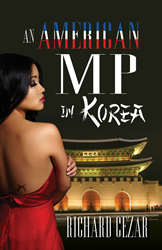 I find that we are not so diverse after all, and find that we are partners in the human condition.
Chicago, IL (PRWEB) April 01, 2014
"An American MP in Korea," a novel by author Richard Cezar, is available now on Amazon.com and BarnesandNoble.com. Published at a time when political tensions between the United States and North Korea are sharply on the rise, "An American MP in Korea" sets its drama in the time and place where it all began. It is the story of a young American military policeman's personal growth, struggles, and triumphs in mid-1960s South Korea, during the reign of North Korean premier Kim Il-Sung. Known as the "Great Leader" and father of the communist movement in North Korea, Kim was the grandfather of its current leader, Kim Jong-Un. Sex, murder, suicide, espionage and love are all intertwined in this page-turner novel based on true events—with a shocking ending that readers will never see coming.
As Cezar is drafted into the army in the fall of 1965, trained as a military policeman and shipped to South Korea, he believes that fate has spared him the horrors of a burgeoning war in Vietnam. Instead, he is thrust into a different kind of war: one that will shake his core beliefs and cripple his ability to deal with the tragic and deadly consequences. This is the tale of a young man's triumph over fear, injustice and racism to find truth, love and God during the "cold war" era.
"In my journeys, I have been gifted with exposure to multiple cultures and wonderfully diverse points of view," says Cezar. "In my writings, I endeavor to extract the emotions from those experiences and set them to print. In doing so, I find that we are not so diverse after all, and find that we are partners in the human condition."
Richard Cezar writes fiction novels based on his own personal experiences and those of the people he has encountered in his travels.
"An American MP in Korea" is available now at http://www.amazon.com/An-American-Korea-Richard-Cezar/dp/0988676559 and http://www.barnesandnoble.com/w/an-american-mp-in-korea-richard-cezar/1117468777?ean=9780991230518. For review copies of "An American MP in Korea," please contact Eva Dilman at eva.dilman(at)expertsubjects(dot)com.
About ExpertSubjects.com
ExpertSubjects.com is a trusted Internet resource for self-publishing authors and writers. The site offers a wide variety of self-publishing services such as editing, book cover and interior design, eBook formatting and distribution, marketing, website design and traditional publishing. For more information on self-publishing through ExpertSubjects, please visit http://www.expertsubjects.com.