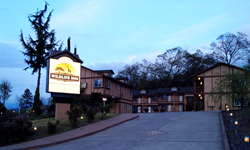 We are pleased to announce the opening of the most unique Inn located in the Umpqua Valley wine country. - Wildlife Pacific LLC
Winston, Oregon (PRWEB) March 31, 2014
The Wildlife Inn has opened after an extensive makeover of the former Sweet Breeze II Inn in Winston Oregon. It is the closest Inn to the Winston Wildlife Safari at the gateway to the Umpqua Valley wine country. The hotel first opened in the 1990's as an avant-garde Inn featuring hand painted fixtures, and a smoke free lodging concept. The Wildlife Inn continues the tradition of smoke free rooms, but with upgraded stylish décor.
The Inn's new motif is African wildlife theme, which is certain to generate excitement among guests of all ages that come to the area to visit the Winston Wildlife Safari or Noah's Ark. It is ideal for a romantic getaway or for families. The new logo features a lone giraffe on the savannah silhouetted against a sunset. African tribal masks and trophies grace the lobby and artwork featuring lions and elephants brighten the rooms. Fun animal print bedding and shower curtains complete the ensemble.
The Wildlife Inn includes a fitness area that is nearing completion with weight stacks, barbells and a Smith machine for staying healthy. The spa will be opening in late spring of 2014 and will include massage tables for relaxation after wine tasting in the scenic Umpqua Valley wine country or a busy day touring at the nearby wildlife park. Guests can also enjoy a complimentary Wi-Fi connection and family friendly satellite TV programming. A newly refreshed meeting room gives space for small conferences and meetings, and an association with Noah's Ark makes expanded conference space with food service available for larger meetings.
The Wildlife Inn will include continental breakfast prepared at Noah's Ark across the street. Noah's Ark is a must see attraction housed in a large building constructed to look like the Ark of Noah resting on a mountainside. It is visible from the inn and adds to the natural beauty that is characteristic of the rolling pine and oak covered hills that are typical of southern Oregon. Noah's Ark is a restaurant, bookstore and tour that features hand painted murals throughout the building including life-sized elephants and giraffes. Some animals, including a rhinoceros and hippos extend into the room in three dimensions.
The Wildlife Inn is owned and operated by the Wildlife Pacific LLC. For further information please point your browser to WildlifeInn (dot) com. When the refreshing is complete the Wildlife Inn will host a grand opening. Watch the website for further information.
Media Contact: Nancy Buck at (541) 679-2420 or OregonWildlifeInn (at) gmail (dot) com.