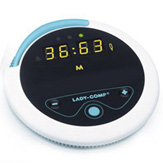 I have been researching for weeks into natural birth control and found Lady-Comp coming up as No.1 time and time again - Laura Helen Roberts, UK
London, UK (PRWEB UK) 31 March 2014
The fertility computer gives women complete control of their contraception without the associated side effects often found in more common birth control methods. Now, Lady-Comp is available in the UK and Ireland.
Luke Manczak, Managing Director for Lady-Comp UK says: "Our product has been around for over 25 years and enjoy tremendous confidence among women as Europe's most trusted and recommended natural contraception monitor with an excellent track record and a loyal customer base. We believe this is down to The Lady-Comp fertility monitor offering health conscious women peace of mind when family planning, and it's really easy to use."
Women measure their fertility with the computer by taking their temperature each morning; via a simple three-color system (red, yellow, and green) the user learns which days she is fertile and therefore when she is at the time of becoming pregnant or not.
In their cycles, most women have six days in which they can become pregnant: five days before ovulation and a day of ovulation. On the final day, their body temperature slightly rises. That's the measure that Lady-Comp precisely detects, measures, and then compares to other data previously compiled as well as data that is already "built into" the monitor.
Manczak continues: Lady-Comp was developed in Germany by a team of gynecologists, software specialists, and electronic experts. The "electronic brain" of the monitor, which contains knowledge of fertility, and other components are manufactured by leading suppliers around the globe."
Lady-Comp draws upon extensive information from over 900,000 unique cycles of tens of thousands of women as well as advanced bio-mathematical forecasting and specialised software for tracking, monitoring, storing, and predicting its user's fertility pattern.
The popular 'combined pill' is around 99% effective and can induce some side effects which may include; mood swings, headaches and breast tenderness and the more serious: cervical cancer, blood clots, mental depression and endometriosis - additionally pills' and coils' anty-implantation mechanism creates a hostile environment for a newly conceived embryo, who because of synthetic hormones cannot attach to the uterine lining.
Lady-Comp offers the same and even higher reliability (99.3%) as traditional contraceptives whilst assuring the user that it is completely organic, healthy, and for those with moral concerns, ethically sound.
More information about Lady-Comp's research into the associated health risks of traditional hormonal methods can be found here.
About Lady-Comp UK:
Lady-Comp UK is the only authorised distributor of Lady-Comp® for the UK and Ireland – the most effective & clinically proven fertility & natural birth control & family planning computer available on the market.