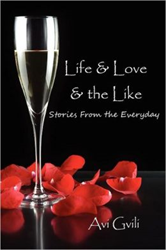 A Celebration of the Short Story!
Staten Island, New York (PRWEB) March 31, 2014
Boulevard Books and StatenIslandOutLoud hosted an evening of literary delights as short stories by Alice Munro and Avi Gvili were read and discussed by a lively audience. Alice Munro, described as the "master of the modern short story from," won the Nobel prize for literature in 2013. Avi Gvili is the author of Life & Love & the Like: Stories from the Everyday. For more information and to book events please call 917-825-0390.