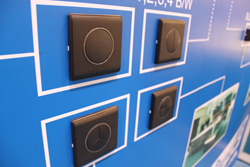 No router and no setup is required. Bluegic's Bluetooth Wall Switch is the simplest solution to make your home smarter!
Hong Kong (PRWEB) March 31, 2014
Compatible with both IOS and Android devices, the Bluetooth Wall Switch is the first of its kind, offering users an easy and efficient way of controlling lighting systems through their smartphones. The switch is effortlessly easy to install, simply replacing normal wall switches with the sleek and stylish electronic device. With an almost instant Bluetooth response time of just 20 milliseconds, the product is set to revolutionise the way in which day to day living is conducted.
Colin NG, Project Manager said, "We are delighted to announce the launch of our crowd funding campaign, which marks a very exciting milestone in the development of our ground breaking new technology. The Bluetooth Wall Switch is totally unique and incredibly convenient. No router is needed and users can control the wall switch directly through a smartphone, making any home more responsive at the click of a button."
The device features an array of useful and exciting functions that make everyday living easier and more enjoyable than ever. Smart automation automatically senses when a Bluetooth enabled device comes in range and can be used as an automated way of switching on lights - perfect for those who hate arriving home to a dark house! Away detection is great for those who make a habit of keeping the electricity meter in full swing, automatically switching lights on and off as the Bluetooth device enters and leaves a room.
Bluegic ensures the absolute safety of its customers by setting up password protect functions for all of its products. This means that only the registered owner has the power to control the Wall Switch's Bluetooth functions.
There is no limit on the number of devices that can be added to a smartphone, meaning users can install as many Bluetooth Wall Switches as they like for seamless convenience around the home. The accompanying app offers an easy way to manage the switches, placing complete control at the fingertips of the owner. The app also allows for real time updates of activities, meaning users are kept up to date with the usage of their Bluetooth Wall Switch device at all times.
The product is available in black or white with one, two, three or four buttons and voltage options of 110V or 220V.
The project offers a range of different rewards and perks for each crowdfunding pledge. $1 or above guarantees donators exclusive updates on the product while $69 secures a four button Bluetooth Wall Switch with free shipping within the US, Europe, Australia and Asia Pacific. For business minded backers who see the product as a savvy investment, 10 distributor contributions of $8000 are also available.
The Bluetooth Wall Switch is scheduled for release in August 2014. Pre-orders can be placed via the Bluegic website at the cost of US$54.90.
To learn more about the Bluetooth Wall Switch or to invest in the Indiegogo campaign visit http://www.indiegogo.com/projects/bluegic-bluetooth-wall-switch. To browse the complete range of Bluegic products visit http://www.bluegic.com.
About the Bluetooth Wall Switch:
Created by Hong Kong-based Bluegic, the Bluetooth Wall Switch is an innovative new product giving users the power use their smartphones to control any form of switch operated lighting. There is currently an Indiegogo crowdfunding campaign in place to help raise funds to launch the product into the public market.
About Bluegic:
Bluegic is owned by Lincogn Technology Co. Limited, a Hong Kong-based technology company retailing a wide range of Bluetooth electronics and accessories. It is a member of the Incu-Tech Programme, HKSTPC (Hong Kong Science and Technology Parks Corporation).