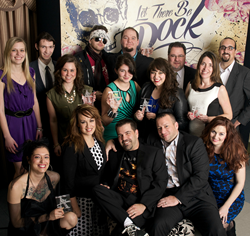 To receive two American Advertising Awards is a great joy for all of us at Celebrate Gettysburg, and we are very proud of the creative team members who work so hard to make each issue informative and beautiful.
Gettysburg, PA (PRWEB) March 10, 2014
Celebrate Gettysburg magazine, the bimonthly lifestyle publication for Gettysburg and Adams County, Pa., was among the honorees for the 2014 American Advertising Awards, presented by the American Advertising Federation (AAF) of Greater Frederick on March 1 in Walkersville, Md. The American Advertising Awards competition is the year's most celebrated event and is considered the "Oscars" of the advertising world.
Celebrate Gettysburg's American Advertising Award winnings consist of:

A Silver Award in the publication design, series category for the two special July/August 2013 issue covers, featuring Union and Confederate Civil War living historians, and
A Silver Award in the publication design, editorial spread or feature category for the Adams County covered bridges feature story, "Commonwealth Crossings," from the September/October 2013 issue.
Celebrate Gettysburg is published by published by Graphcom Publishing, a division of
Graphcom, a full-service marketing and communications firm in Gettysburg.
"To receive two American Advertising Awards is a great joy for all of us at Celebrate Gettysburg, and we are very proud of the creative team members who work so hard to make each issue informative and beautiful," said Jessica Dean, founder and creative director of Celebrate Gettysburg.
"Designing a magazine that appeals to the interests of both local residents and visitors alike is not easy. A great publication must be attractive in both content and design, and it must engage its readers issue after issue. We thank the judges for recognizing our good work," said Graphcom President Matt Livelsberger.
The announcement of these awards comes just months after the Gettysburg community culminated its 150th anniversary commemoration of the Battle of Gettysburg and Abraham Lincoln's Gettysburg Address last year. An estimated 235,000 visitors were present for the 10-day Battle of Gettysburg sesquicentennial commemoration activities from June 28-July 7, 2013.
About the American Advertising Awards
Attracting nearly 60,000 entries each year nationwide, the American Advertising Federation's (AAF) American Advertising Awards have become the largest and most comprehensive advertising competition. The American Advertising Awards originated in the 4th District in 1960 and became a three-tiered national competition in 1968.
Sponsored by the AAF, the awards honor excellence in advertising and cultivate the highest creative standards in the industry. Each year, the competition begins with contests in the nation's more than 200 AAF member clubs, where entries must be submitted and judged to be eligible for the American Advertising Awards process. Local winners proceed to 15 regional competitions, and those winners advance to the national finals.
Proceeds from the American Advertising Awards program on all levels of competition go back into the industry through the work of the AAF and its members, especially in the areas of advertising education and public service advertising.
For more details on the American Advertising Federation of Greater Frederick, visit http://www.aaffrederick.org.
About Celebrate Gettysburg
Celebrate Gettysburg explores the facets of small-town life that make Adams County such a special place to call home and to visit. In each bimonthly issue, Celebrate Gettysburg features in-depth articles, stunning photography and recurring departments all highlighting the good life in the area. Celebrate Gettysburg was launched in January 2007 by Troy and Jessica Dean, both lifelong residents of Adams County. Today, Celebrate Gettysburg has a readership of more than 45,000 readers and is available through digital editions at http://www.celebrategettysburg.com or as mobile apps from the major app stores. To subscribe or advertise, call 888-521-6810 or email info(at)celebrategettysburg(dot)com.
About Graphcom
Founded in 1982, Graphcom is a full-service communications and marketing firm located in Gettysburg, Pa. The organization includes a creative agency (Graphcom Creative), a signage division (Signs by Graphcom), a publishing division (Graphcom Publishing), a digital flags and scenic effects division (Field and Floor FX), as well as a full-service commercial printing division with G7 Master Printer certification. Learn more about Graphcom's services by visiting http://www.graphcom.com or call 800-669-1664.