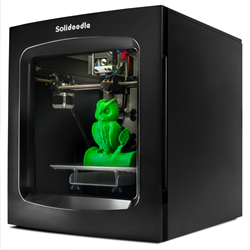 Brooklyn, NY (PRWEB) March 31, 2014
Solidoodle, the value-leader in 3D printing, is excited to showcase its latest in consumer desktop 3D printers at Media Bistro's second-annual Inside 3D Conference and Expo, April 3rd and 4th at the Jacob K. Javits Convention Center in New York City. The Brooklyn-based manufacturer will have its Solidoodle 4 on hand, the newest product in its line of sub-$1000 3D printers, and provide visitors with live 3D printing demonstrations at booth 412 in the exhibitors section.
"Last year's show brought a lot of attention to 3D printing and was a great experience for us," said Solidoodle CEO Sam Cervantes. "We've seen some major growth since then and are proud to showcase our most consumer-ready 3D printers to date."
On April 4th at 10 am, Solidoodle CEO Sam Cervantes will take part in a panel entitled "The Future of Desktop 3D Printing," moderated by Technology Research Analyst and futurist Francis Rabuck in the Maker Summit. The panelists will discuss how they are working to make 3D printing more accessible for consumers and offer ideas on the future of the industry.
About Solidoodle
Solidoodle, founded in 2011 by aerospace engineer and 3D printing industry-veteran Sam Cervantes, builds affordable and easy-to-use 3D printers for both professional and consumer use. Built in Brooklyn, New York, more than 10,000 Solidoodle 3D printers have sold to customers around the world since the company debuted its sub-$500 2nd Generation printer in early 2012. For more information about Solidoodle, please visit solidoodle.com.
About Inside 3D Printing Conference and Expo
Inside 3D Printing Conference and Expo with Maker Summit & Pavilion provides two full days of comprehensive programming, 3D printer giveaways, over 30 exhibitors, and more at the Jacob K. Javits Convention Center at 655 West 34th Street in New York City. The final program includes an impressive lineup of speakers from the manufacturing, aerospace, automotive, medical, creative, legal, and financial industries. For more information on the Inside 3D Conference and Expo, visit mediabistro.com/inside3dprinting/new-york.
For press or business inquiries, please contact Yahea Abdulla at yahea@solidoodle.com to schedule a meeting or interview during the expo.