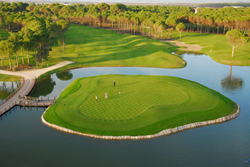 Growing interest in Turkey property is down to a favourable exchange rate for UK and European golfers.
(PRWEB UK) 31 March 2014
The agency, which has offices in the resort areas of Fethiye, Antalya, Side, as well as the prospering Istanbul, say the number of enquiries for property in Turkey with golf courses within walking or easy driving distance is picking up pace.
Turkey is 4th top golfing destination
Turkey is regarded as the fourth top golfing country, coming in just behind Spain, Portugal and Scotland, according to a survey by Golf Travel Insights and compiled by the Golf Advisory Practice in Budapest. Turkey also received the accolade of 'Best Golf Destination of the Year in Europe' by the International Association of Golf Tour Operators (IAGTO) back in 2008.
Oceanwide Properties MD Suleyman Akbay said: "Turkey has always appealed to UK golfers and those from other European nations, as well as the United States. It's in part to do with the balmy Mediterranean climate which more or less guarantees golfers that they will be able to play every day.
"Then there is the quality of the courses – the majority of which are professional standard and at Belek at least, are not for the beginner or fainthearted golfer.
"Why we're seeing a growth in interest from golfers at his moment in time is, I believe, down to the favourable exchange rate for UK and European visitors. Not only does this mean it costs less for a golfer to enjoy their hobby, but Turkey property near to the courses are also offering quite unprecedented bargains at this moment in time.
"The five star golfing hotels are expensive and having a Turkey property nearby which you can visit at any time of the year to play on the courses and rent out during the months you won't be visiting, is proving irresistible to golfers, it seems. At Oceanwide Properties we currently have three such properties in our portfolio – two at Belek and one at Sarigerme - and the attention they are receiving is quite unprecedented."
One of the most recent golf courses to emerge is the Gloria resort at Belek in Antalya and which already boasts 45 holes including an Old Course, New Course and nine hole Verde Course. Having the Mediterranean lying alongside and within view also adds to its appeal. The long Lykia Links course at Belek is also attracting a lot of attention from hard core golfers.
Courses designed by golfing professionals
Then there is the fact that some of the courses have actually been designed by none other than world class golfers Nick Faldo and Molin Montgomerie. The latter's very challenging Maxx Royal course has especially boosted the profile of Turkey as a top golfing destination. At present the Turkish Golf Federation boasts more than 1000 affiliated club members and 20 clubs country-wide.
Meanwhile it's estimated that more than 471,000 rounds of golf annually are played at the 16 tough golf courses in Belek, attracting a dedicated golfing holidaying crowd of 135,000 golfers every year. That interest is expected to skyrocket however with more courses planned – up to 100 within the next 15 years (at present there are 17).
For more information on golfing properties see Oceanwide Properties Turkey.