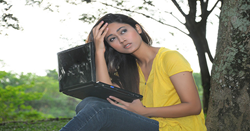 Amanda Todd's story is both tragic and inspiring
London, UK (PRWEB) March 30, 2014
When Amanda Todd posted a video on Youtube with the use of flash cards, it seemed like a cry for help, she told the story of being abused, bullied and victimized online and in person, she narrated her silent story of torture, drug abuse and alcohol abuse to silence her pain stemming from Cyber Bullying. She was desperate for someone to understand her, listen to her and simply, she wanted a friend who got her. NoBullying releases today the Amanda Todd Story.
According to the article, Amanda was born in 1996 in British Columbia, Canada; she was a happy easy going person, until she was introduced to an anonymous person on Facebook who flattered her so much till the point of convincing her to flash her topless body to him. A year later, the same person or another anonymous person sent her the picture and it went viral, creating a mass of bullying and teasing to the point that she had to change schools several times. Her reputation was ruined, she had no friends, she was beaten up by some classmates, she tried drinking bleach but was saved at the last minute and months later, she took her own life.
Macartan Mulligan, Co-Founder of NoBullying.com, said "Amanda's story is both tragic and inspiring, Tragic in the sense that a helpless teen found no way out but suicide and inspiring in the sense that her story inspired people who love her to start a foundation to help the victims of bullying and hate crimes."
He added that parents and teachers should make a point to educate the younger generations about the sad outcome of bullying online and offline. According to Mulligan, it is quite imperative to press for more firm laws condemning all acts of bullying and harassment.
NoBullying features many pages dedicated to parents, teens, teachers, health professionals as well as posts related to cyber safety and the latest news about law making concerning curbing Bullying worldwide as well as inspirational Bullying Poems and Bullying Quotes.
The website makes a habit of updating its bullying statistics and cyber bullying statistics regularly because it is essential to understand how widespread the bullying epidemic is.
He also added that anyone suffering from bullying in any form or way can always reach out to the team of NoBullying and they will be given advice on how to stand up to bullying or protect themselves online.