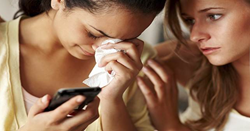 To understand bullying properly is the first step towards curbing it once and for all.
London, UK (PRWEB) March 31, 2014
When children turn into bullies, there is almost always a psychological reason why they do so. While the majority of children don't turn to bullying, the ones that do are usually crying out for help. The circumstances a child has dealt with in their life determine whether or not they will become a bully. Nobullying releases today the Ultimate Guide to the Psychology of Bullying.
According to the guide, paired with a video interview with Mary Smith who is a renowned Irish psychologist, in the 1970s psychologists began researching why some children turn to bullying to feel better about themselves. The first group of children under study was schoolchildren in Norway. This study began after many children who were the target of bullies ended up killing themselves.
When a child has become a bully, they want to show their dominance over other children and be admired by their schoolmates for it. Children who bully others want to receive affection and since they are not, they turn to picking on other kids. Socially awkward children are often the target of a bully because they are less likely than other kids to have a peer come to their defense.
According to the article, published today, children who are bullies have suffered some form of abuse in their life. As a result, they often have trouble controlling both their actions and their emotions. They often struggle with psychological problems and drug and alcohol abuse as well as delinquency. A study conducted in Korea determined that any girl who has been the victim of a bully is more likely to have suicidal thoughts than children who have not. Other studies show that both gay and lesbian children are bullied as much as three times more than other kids are.
Macartan Mulligan, Co-Founder of NoBullying.com, said "Mary Smith came to our aid to help us understand the psychology of bullying. To understand bullying properly is the first step towards curbing it once and for all."
He added that parents and teachers should make a point to educate the younger generations about the sad outcome of bullying online and offline. According to Mulligan, it is quite imperative to press for more firm laws condemning all acts of bullying and harassment.
NoBullying features many pages dedicated to parents, teens, teachers, health professionals as well as posts related to cyber safety and the latest news about law making concerning curbing Bullying worldwide as well as inspirational Bullying Poems and Bullying Quotes.
The website makes a habit of updating its bullying statistics and cyber bullying statistics regularly because it is essential to understand how widespread the bullying epidemic is.
He also added that anyone suffering from bullying in any form or way can always reach out to the team of NoBullying and they will be given advice on how to stand up to bullying or protect themselves online.