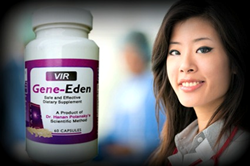 Individual should then speak to their doctors about Gene-Eden-VIR. This natural antiviral targets was recently proven to reduce mental and physical fatigue in a post-marketing clinical study that followed FDA guidelines. - polyDNA
Rochester, NY (PRWEB) April 02, 2014
A recent study found that fatigue is the most common complaint of breast cancer patients and survivors (1).
Why do breast cancer patients and survivors experience fatigue? Both the disease and the treatments weaken the immune system. As a result, the latent viruses in these patients will start to replicate and increase their numbers. One typical virus that infects most people is the Epstein Barr Virus (EBV). Research shows that in high concentrations, these viruses cause fatigue. Therefore, polyDNA suggests reducing the numbers of latent viruses in the body to reduce physical and mental fatigue.
Fatigue is a condition that includes psychological, social, and physiological aspects, and is increasingly recognized as the most common complaint in breast cancer patients and survivors (1). "Studies associate the feeling of fatigue with a sense of tiredness, lack of energy, a feeling of exhaustion, and impaired physical and/or cognitive performance." (See Pharmacology & Pharmacy, from March 2014) (2).
Breast cancer reduces the efficiency of the immune system. In addition, treatments for breast cancer such as, "chemotherapy and radiotherapy can weaken immunity by causing a drop in the number of white blood cells made in the bone marrow." (See CancerResearchUK.org, Last updated July 24, 2013) (2). This weakening of the immune system can allow an infection with a latent virus, such as with EBV, to create conditions favorable to the growth of cancer cells, and to feelings of fatigue. "Previous studies have found that up to 99% breast cancer patients experienced some level of fatigue during the course of radiation therapy and/or chemotherapy, and … studies have also shown that the intensity and duration of fatigue experienced by breast cancer patients undergoing treatment is significantly greater than that experienced by healthy controls. Moreover, fatigue was considered to be the most distressing side effect of treatment in a group of breast cancer patients receiving adjuvant chemotherapy (1)."
It is important to note that even when a breast cancer survivor is in complete remission, that individual may suffer for years from debilitating fatigue. Study authors wrote that "fatigue may persist for months or years after breast cancer resection despite no evidence of active cancer (1)."
polyDNA recommends that individuals with breast cancer, or who are breast cancer survivors, ask their doctors for a blood test that identifies the existence of a latent infection with EBV or CMV (human cytomegalovirus), two of the most common latent viruses. If positive, that individual should then speak to their doctors about Gene-Eden-VIR. This natural antiviral targets the latent EBV and CMV, and was recently proven to reduce mental and physical fatigue in a post-marketing clinical study that followed FDA guidelines (2).
This is the second time that a peer reviewed medical journal published a paper reporting a clinical study on Gene-Eden-VIR's, patent protected, natural formula. The first paper, entitled "Gene-Eden-VIR Is Antiviral: Results of a Post Marketing Clinical Study" was published in September 2013 and can be found at: http://www.scirp.org/journal/PaperInformation.aspx?PaperID=36101#.UzQEv6iSz90.
To view the entire paper on Gene-Eden-VIR and fatigue, visit: http://www.scirp.org/journal/PaperInformation.aspx?PaperID=44234#.UzQC5KiSz90.
For more information on Gene-Eden-VIR please visit the product's official website at: http://www.gene-eden-vir.com.
We invite the media to contact us for interviews at: note (AT) buy-gene-eden.com or phone 585-250-9999. All orders of Gene-Eden-VIR are completely confidential, and no information is shared or sold to any third party. Privacy is assured.
References:
(1) Long-term fatigue state in postoperative patients with breast cancer. Published on 2014.
http://www.ncbi.nlm.nih.gov/pubmed/24653622
(2) Gene-Eden-VIR Decreased Physical and Mental Fatigue in a Post Marketing Clinical Study That Followed FDA Guidelines; Results Support Microcompetition Theory. Published in March 2014.
http://www.scirp.org/journal/PaperInformation.aspx?PaperID=44234#.UzfrpqiSz90
polyDNA is a biotechnology company that develops dietary supplements using the unique scientific method developed by Dr. Hanan Polansky, which is based on Computer Intuition.
In addition to his unique scientific method, Dr. Polansky published the highly acclaimed scientific discovery, called Microcompetition with Foreign DNA. The discovery explains how foreign DNA fragments, and specifically, DNA of latent viruses, cause most major diseases.
polyDNA developed Gene-Eden-VIR, an antiviral natural remedy that helps the immune system kill latent viruses.