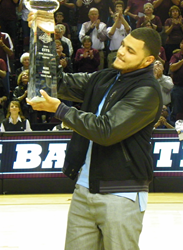 I want to thank College Football Performance Awards for the award, and I'll cherish it for the rest of my life.
College Station, TX (PRWEB) March 31, 2014
Texas A&M wide receiver Mike Evans was presented with the 2013 College Football Performance Awards Wide Receiver Trophy during the Texas A&M vs. Ole Miss men's basketball game on March 1, 2014. CFPA Executive Director Brad Smith was on hand to present the award at Reed Arena in College Station, Texas.
Evans finished the 2013 season with 69 receptions for 1,394 yards and twelve touchdowns. In his strongest performances, Evans contributed 287 yards and four touchdowns against Auburn and 279 yards and one touchdown against Alabama.
"I want to thank College Football Performance Awards for this award, and I'll cherish it for the rest of my life," said Evans. "It means so much to me and my family, but most importantly to my coaching staff."
Evans was presented the award during a media timeout in the second half. After the presentation, Evans posed for photos with the 12th Man student section.
Dating back to 2008, Evans is the eleventh FBS player to earn CFPA honors at the wide receiver position. Others include: Jordan Matthews (Vanderbilt), Marqise Lee (USC), Kendall Wright (Baylor), Justin Blackmon (Oklahoma State), Leonard Hankerson (Miami), Ryan Broyles (Oklahoma), Golden Tate (Notre Dame), Danario Alexander (Missouri), Freddie Barnes (Bowling Green), and Dez Bryant (Oklahoma State).
Seminoles to Receive CFPA Awards at 2014 Florida State Spring Game:
Florida State quarterback Jameis Winston will be presented with the 2013 CFPA National Performer of the Year Trophy and 2013 CFPA National Freshman Performer of the Year Trophy on April 12, 2014 during the 2014 Florida State Spring Game at Doak Campbell Stadium in Tallahassee, Florida. In addition, Roberto Aguayo will receive the 2013 CFPA Placekicker Trophy, and Levonte Whitfield will receive the 2013 CFPA Elite Kickoff Returner Trophy.
"This is the cherry on top. It just makes me want to work harder to win another one next year," said Aguayo. "I've seen the past winners like Caleb Sturgis, Randy Bullock, and Alex Henery. It's an honor to be with them and be in the same spot they were."
In 2013, Aguayo converted 21-of-22 field goals and 94-of-94 extra points. Aguayo replaced 2012 CFPA Elite Specialist Trophy winner Dustin Hopkins, currently with the Buffalo Bills.
"It feels really good to have this award. I'm just taking it all in," said Whitfield. "Winning this award means a lot to me as a freshman, doing what I had to do to get on the field."
Whitfield finished the 2013 season with seventeen kickoff returns for 619 yards and two touchdowns. Whitfield returned four kickoffs for 172 yards, including a 100-yard touchdown, in Florida State's 34-31 BCS Championship victory over Auburn.
Southeastern Louisiana Players Earn CFPA FCS Awards:
Two Southeastern Louisiana players earned CFPA FCS Awards for the 2013 season. Xavier Roberson earned the 2013 CFPA FCS Kickoff Returner Award, while Seth Sebastian earned the 2013 CFPA FCS Placekicker Award.
"I am extremely honored and feel blessed to win the top placekicker award in the FCS and be among the elite players in college football," said Sebastian. "I tried to approach every kick the same way."
About College Football Performance Awards:
The goal of College Football Performance Awards is to provide the most scientifically rigorous conferments in college football. Recipients are selected exclusively based upon objective scientific rankings of the extent to which individual players increase the overall effectiveness of their teams. Twenty-one CFPA winners have been first-round NFL Draft selections.