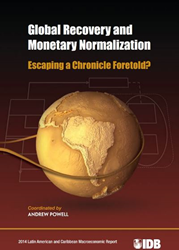 "Fiscal balances have deteriorated and rebuilding fiscal buffers should be a priority especially given current uncertainties," said Santiago Levy, IDB Vice President for Knowledge and Sectors.
Costa Do Sauipe, Brazil (PRWEB) March 30, 2014
Latin America and the Caribbean economies are set to grow at 3 percent in 2014 and 3.3 percent in 2015 thanks to improving economic conditions in the United States and Europe, a study issued here today by the Inter-American Development Bank says.
This is in line with the region's baseline potential in the absence of growth-inducing reforms to boost productivity, according the 2014 Latin American and Caribbean Macroeconomic Report, titled "Global Recovery and Monetary Normalization: Escaping a Chronicle Foretold."
Improved economic prospects in the U.S. and Europe will help boost growth, and there is an upside potential that the U.S. economy will grow at a stronger pace than anticipated, providing additional growth potential to the region, and particularly to Mexico, Central America and the Caribbean, whose economies are more closely tied to the United States.
The Latin American and the Caribbean region also faces two potential negative risks: financial shocks if interest rate hikes in the U.S. are faster than expected and a drag on real growth in the region if there is slower economic growth in China. South American economies are especially vulnerable to a Chinese slowdown.
Follow us on Twitter using @the_IDB.