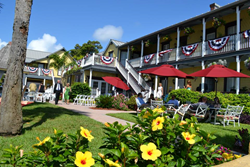 We've put an emphasis on southern favorites, like deviled eggs and chicken salad.
St. Augustine, FL (PRWEB) March 31, 2014
The Bayfront Marin House, an award-winning bed and breakfast in St. Augustine, Florida, has long been known for their two-hour happy hour, offered as a free amenity for guests of the inn. That amenity is now even better as the bed and breakfast owners announce new seasonal menu items and an opportunity for all visitors in St. Augustine to enjoy the two hour social.
"Florida has such wonderful produce," says Mike Wieber, "and St. Augustine has a wealth of great local products. We wanted to combine those elements for a happy hour menu based on local foods, seasonal offerings, and great recipes."
New menu items include a homemade bruschetta, rich with vine ripened tomatoes, locally made bread, and balsamic vinegar from a local distributor; pickled asparagus spears with harvarti cheese, roasted red peppers and thin sliced ham; and southern barbecue pastry buckets, made using the inn's cook's family recipe.
"We've put an emphasis on southern favorites, like deviled eggs, chicken salad bites, and homemade meatballs," says Wieber. "We create mouth-sized treats that will hold you over til supper."
The inn also serves a variety of beers, wines, and their famous signature Maringria, a homemade sangria served with fresh fruit and a little bit of carbonation. The bed and breakfast makes both red and white versions of the drink, as well as a pink blend for guests who can't make up their mind.
"Our happy hour is so popular, we have decided to open it up to the general public," says Wieber. "For just $15, anyone can now enjoy our appetizers and drinks, as well as our prime view of the Matanzas Bay, the St. Augustine lighthouse, and the historic Bridge of Lions." Patrons who wish to attend happy hour should call the inn and make a reservation a minimum of 24 hours in advance, and there are a limited number of tickets available each day.
Guests staying in one of the inn's 15 rooms are invited to happy hour as a complimentary amenity with their room.
"Our happy hour is a chance to relax and kick back after exploring our city," says Wieber. "We look forward to welcoming even more people to enjoy that with us."
Information about the Bayfront Marin House
The Bayfront Marin House in Saint Augustine, Florida is a 15-room, luxury bed and breakfast inn. Located on the Matanzas Bay, the bed and breakfast offers stunning views of the water, hot southern breakfasts each day, along with the highest levels of personalized customer service. Reservations can be made at 904.824.4301, or at bayfrontmarinhouse.com.