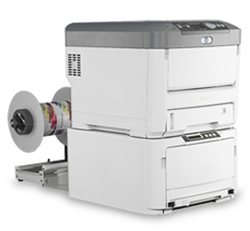 Our competitive advantage has everything to do with driving down the cost of equipment ownership.
Chanhassen, MN (PRWEB) April 01, 2014
Narrow Web label printing system leader Afinia announced today that they have immediately reduced the price of R635 toner cartridges by 12%, from $227USD to $199USD. The C, M, and Y cartridges are rated at 11,500 page equivalent and the K cartridge is rated at 30,000 page equivalent.
"Our competitive advantage has everything to do with driving down the cost of equipment ownership", said Mike Atkins, Afinia Label's National Sales Manager. "The market has responded and, because of that, we have achieved economies of scale that allow us to make in-house label printing even more affordable by reducing our toner prices."
The Afinia Label R635 is a single-pass, 4-color, LED-based, low-temperature laser printer that runs at 30 feet per minute. Designed for mid-range and industrial printing, the R635 offers cost-savings by bringing label printing in-house. In addition to printing prime labels for industries like coffee, wine and specialty foods, the R635 is used by many companies for private labeling of chemicals because of its ability to create output that meets GHS and BS 5609 requirements.
Mike observed, "When people consider a $3,000 label printer they sometimes ignore the total cost of ownership. If you are printing 10,000 labels per month on one of those printers, its total cost will equal that of a $14,995 R635 in 6 months. That's a real eye-opener for prospective Afinia Label clients." Mike continued, "Things get expensive, really fast as the monthly label volume exceeds 10,000. We've seen instances where the $3,000 printer costs so much to run during the first year that the customer could have bought an R635 with the ink cost savings."
Afinia Label emerged as a digital label printing system leader in 2012 when they collaborated with Memjet to create a commercially viable narrow web label printing solution. Afinia Label is now one of the largest distributors of Memjet-based label printers in the world.
Afinia Label is a division of Microboards Technology LLC, is a leader in specialized printing solutions. Their twenty-year history includes leadership in disc duplication, 3D printing and, most recently, digital label printing. More information can be found at http://www.AfiniaLabel.com, Twitter or by phone at 1.888.215.3966.