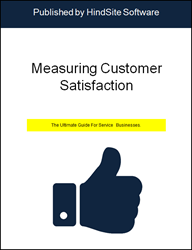 Customer satisfaction surveys give field service businesses an opportunity to improve based on the most important feedback possible – their customers.
St. Paul, MN (PRWEB) March 31, 2014
For many service businesses with hundreds or thousands of customers, measuring customer satisfaction can be difficult. They don't have the time, resources or know-how to accurately measure their customer satisfaction. And once they do, they don't know how to analyze and take steps to improve their business as a result.
To help those businesses, HindSite Software, a leading provider of field service software for service businesses, recently released an eBook, Measuring Customer Satisfaction: The Ultimate Guide for Service Businesses, that shows small, service businesses how to measure customer satisfaction by sending post-service surveys as well as annual customer satisfaction surveys.
"Our customers are very service focused," explains Chad Reinholz, Marketing Manager at HindSite Software. "It's a competitive environment, and they're always looking for ways to improve. Customer satisfaction surveys give them an opportunity to improve based on the most important feedback possible – their customers."
The eBook not only helps service businesses craft great surveys, but it walks them through some common ways businesses benchmark their results, including a brief explanation of how to measure Net Promoter Score, as well as how to create a loyalty test that will indicate how they're perceived by customers.
Measuring Customer Satisfaction also delves deep into how to act on customer satisfaction survey results, including:

How to internally review and communicate your results
How to make an action plan and why it's important to communicate changes to your customers
How to leverage the data to improve training
Tips to improve relationships with dissatisfied customers
Leveraging your satisfied customers
"Measuring customer satisfaction is great, but if you aren't acting on it, you're wasting everyone's time," explained Reinholz. "In the eBook, we spent a significant amount of time explaining ways to leverage the data from a customer satisfaction survey to improve a service business."
Measuring Customer Satisfaction is available to download for free at http://www.hindsitesoftware.com/measuring-customer-satisfaction-ebook.cfm.
About HindSite Software
HindSite Software has helped contractors better manage and grow their business with work order software since 2001. Initially designed as irrigation software, HindSite today assists service businesses with scheduling and billing, contact management, field data collection, and invoicing in QuickBooks®, Sage Peachtree®, and Simply Accounting®. When used by lawn care businesses, this paperless lawn care software has been proven to increase efficiency and organization, meaning greater profit potential with less administrative time.