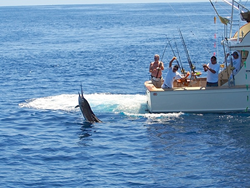 "We want to find a vacation rental home or condo here where we can live a few months of the year, and rent out when we're away." - Owner, the Tranquilo
(PRWEB) March 30, 2014
Quepos and Manuel Antonio have become known in the past ten years as a sport fishing Mecca in Central America. With the new Pez Vela marina now open to the public, it is starting to attract its own attention. In 2013, Pez Vela hosted the 2013 Offshore World Championship—and set new records for the quantity of released sailfish and marlin.
With such amazing fishing right off the coast, it's no wonder that Quepos holds enough clout to host its own billfish tournament. This year was the third year of the Quepos Billfish Cup, and it turned out to be a great success.
The 2014 cup went to the Tranquilo, with a total of 63 sailfish and one blue marlin. After a strong lead on the first day, the enthusiastic husband and wife team from North Carolina set a tough pace. The Tijereta, the Pez Espada, and the Frenzy all vied for second place, and after the third day placed 2nd, 3rd and 4th in this respective order.
2014 has been an epic year so far for deep-sea fishing. Facebook is plastered by proud boat owners, lauding their catch of the day, and new records are consistently being set. Tourists tweet their friends, bragging about the dozen sailfish they caught that day. The Tranquilo alone caught over 400 sailfish in a single month.
Its no wonder why deep-sea fishing has become one of the most popular tours in Manuel Antonio and Quepos. For US$1,500 - $2,000, a group of 6-8 can charter a private boat for a full day of offshore fishing, complete with captain, mates, equipment, music, snacks and refreshments. The captain can target catch-and-release billfish such as sailfish and marlin, or take-it-home-to-cook mahi-mahi, tuna and snapper. Tourists come away thoroughly exhausted, sated, sunburnt and smiling—often with dinner in hand.
Not surprisingly, the owners of the Tranquilo have tasted the bountiful fruits of Manuel Antonio and Quepos, and have their sights set upon spending at least a few months in its tropical waters during the fishing season each year.
"We want to find a vacation rental home or condo here where we can live a few months of the year, and rent out when we're away." Rental villas such as the VP Private Resort cater to sport fishing groups, and even include a chef to cook up the spoils at the end of the day.
With the numbers and titles this relative newcomer has already, the Tranquilo will have its fair share of private sport fishing charters and tours, and the VP Private Resort will have the pleasure of hosting many sport fishing groups.