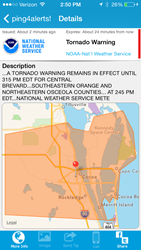 It tells me what to do before the weatherman-- it's a life saving app.
Nashua, New Hampshire (PRWEB) March 31, 2014
Tornado season is once again upon us and emergency management officials are relying on the latest in mobile technology to provide fast, detailed information to people in tornado-prone areas. Ping4 Inc.'s free safety app, ping4alerts!, is leading the way in disruptive technology by delivering highly-targeted alerts to instantly notify users of any dangers or fast-moving emergencies.
Ping4alerts!, is a free iOS and Android app that uses the location-based technology, has already proved effective by helping Richard Pepper, from Solitude, Indiana when a tornado ripped through his town. Pepper received a tornado warning from ping4alerts! and ran from his backyard just seconds before a tree crashed onto the exact spot where he had been standing.
"When a tornado hits, you have a short time to react," said Richard Pepper. Having ping4alerts! has helped me and my family throughout a number of situations where we needed to react quickly. It tells me what to do before the weatherman does-- it's a life saving app."
The ping4alerts! platform is being used by national, state and local agencies including the Massachusetts Emergency Management Agency, the state of North Dakota, the Worcester County Sheriff's office in Massachusetts, six counties in Utah, and Georgia Public Safety Training Center campuses in Georgia.
"The development of these advanced alerting technologies is critically important," said Greg Carbin with the NOAA National Weather Service's Storm Prediction Center. "The National Weather Service relies on innovative companies to rapidly disseminate hazardous weather information to a wide range of people. These types of value-added services are designed to provide as much actionable information as possible."
2011 marked the deadliest year for tornados since 1953, with 1,609 confirmed tornados killing more than 500 people. In 2013, an EF5 tornado devastated the town of Moore, Oklahoma with over $2 billion in damages, 24 fatalities, and almost 400 injuries making it the deadliest tornado since the 2011 Joplin tornado.
Citizens who live in areas affected by severe weather are encouraged to download ping4alerts! for free by simply visiting the App Store or Google Play.
About Ping4 Inc.
Ping 4 Inc., is a Nashua, New Hampshire mobile communications company that delivers real-time, location-based alerts to any iOS or Android mobile device. Public safety agencies license the platform to keep citizens informed of extreme weather events and other fast-moving situations. Consumers are not required to give up any personally identifiable information. User identity is 100% protected. More information is available at http://www.ping4.com.
Contact: Kyla Natali
Public Relations Manager
Email: Kyla.Natali(at)ping4(dot)com
Phone: (603) 548-8533