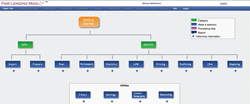 So what we've done with Fair Lending Magic™ 3.0 is to essentially provide the user with a guided tour of fair lending risk assessment and monitoring with expert knowledge built into the process.
Arlington, VA (PRWEB) March 31, 2014
ComplianceTech, Arlington, VA, announced today a new version of its leading automated monitoring tool for analyzing fair lending compliance. Fair Lending Magic™ 3.0 is a complete online fair lending solution used to effectively monitor a broad variety of potential fair lending risks including redlining, reverse redlining, steering, disparate treatment, and disparate impact. In Fair Lending Magic™ 3.0 the existing web-based interface has been radically improved to allow users to see and experience a graphical process-flow of fair lending risk assessment and periodic monitoring for underwriting or pricing performance by channel, product, branch, production personnel and geography.
Fair Lending Magic™ 3.0 is being unveiled at the CBA LIVE 2014 conference at the Gaylord National Resort & Convention Center in National Harbor, MD. Fair Lending Magic™ 3.0 solves the laborious and intellectually intensive task of fair lending statistical risk analysis. Without Fair Lending Magic™ 3.0, the challenge of monitoring fair lending is overwhelming because of the mental energy expended in trying to figure out which products to study, what statistical tests to perform, and what disparities are actionable. The process can be even more difficult for commercial bankers who not only have to monitor mortgage lending but also consumer, automobile, business and other non-mortgage lending. Fair Lending Magic™, and its companion product LendingPatterns™, were designed by lending industry experts with many years of field experience performing loan due diligence, underwriting, and compliance exam readiness consulting. ComplianceTech also works closely with federal banking and enforcement agencies as fair lending consultants and software vendors. The company invented the first commercially available software for fair lending nearly 20 years ago and was the first company to develop software to generate racial and gender proxies for use in fair lending lawsuits.
"We are continuously improving Fair Lending Magic™ to create the best online fair lending tool. For this release, our user community provided us with tremendous feedback that served as the primary inspiration for developing this version. We listened and responded with new features to make Fair Lending Magic™ easier and more enjoyable to use," said Maurice Jourdain-Earl, Managing Director of ComplianceTech.
With this release of Fair Lending Magic™ 3.0, the design enhancements were done to provide a graphical overview of the entire fair lending compliance management process; from data import and data preparation to statistical, matched pair, and redlining analysis. Mr. Jourdain-Earl notes that:
"This is so important because of the complexity of the subject matter and the need to simultaneously combine knowledge and techniques from the disciplines of credit underwriting, law, finance, economics and social science. This level of domain knowledge is almost too much to ask of any person responsible for fair lending. So what we've done with Fair Lending Magic™ 3.0 is to essentially provide the user with a guided tour of fair lending risk assessment and monitoring with expert knowledge built into the process."
Version 3.0 uses a beautiful mind map-like screen interface that guides the user though the process of fair lending analysis. This new graphical interface allows users to easily move from one analytical process to another and to drill down to sub-processes.
Also new to version 3.0 are a host of short "how-to" videos that breakdown and explain various tasks and functions of fair lending analysis. There are, for example, videos on how to import and export a fair lending dataset or performing a match pair analysis. For lenders with data quality challenges, Fair Lending Magic™ version 3.0 also includes the Data Quality Assessment Tool that quickly assesses the quantity and quality of your loan origination system and HMDA data and identifies the various types of fair lending analyses that can be performed with the data that are available. In version 3.0, ComplianceTech added a few bells and whistles to enhance the existing reporting suite. For example, users can now flag for analysis QM loans and evaluate statistical disparate impact by race/ethnicity, age or gender as well as conduct regression analysis to identify outlier cases in pricing and underwriting.
Finally, with regard to file review and reports production, users can now save their review notes about findings such as whether a file comparison match is a false positive\negative based on facts found in the file that were not in the system data. All in all, the innovative team at ComplianceTech expects this version of Fair Lending Magic™ to be well received because of the substantial user input.
ComplianceTech, based in Arlington, VA is a leading provider of fair lending and CRA solutions to the federal government, lending institutions, law firms, community organizations and researchers. The company's software products include LendingPatterns™, Fair Lending Magic™ 3.0, the Racestimator™, The Premium Pricing Analyzer, and LMI and Minority Zip Code Opportunity Maps™. ComplianceTech's products are offered directly or through its reseller Questsoft.
For more information contact Dana Ginsburg at DanaGinsburg(at)compliancetech(dot)com or call her on 202-618-7079.