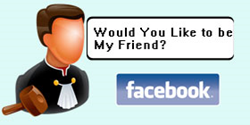 With the explosion of social media, we think it's an issue (judicial Facebook friendships) that our nation's highest court should address.
Washington D.C. (PRWEB) March 31, 2014
Social media is everywhere - Facebook, Twitter, Instagram, Google Plus, Linked In - humans are social creatures and they want to be connected. But what about judges, or as in this case, justices of the North Dakota Supreme Court? Is it appropriate for them "friend" other members of the Bar - How about when they are Facebook friends with one of the parties and don't recuse themselves?
The Supreme Court Press Petition of the Month(TM) is McDermott v. Pifer, Supreme Court Dkt. No. 13-1005, filed by Alexandra and John Siskopoulos of the Siskopoulos Law Firm which takes on this issue. The petition states that the late Dorothy Bevan had at one time given a purchase option to Fargo, North Dakota businessman Kevin Pifer that took effect at her death that was gratuitous - i.e. no consideration was paid. The late Mrs. Bevan later reunited with her daughter Barbara McDermott in Scottsville, Kentucky where she entered a joint-tenancy agreement for the family farm land. When she passed away without a will, Mr. Pifer exercised his option. However, Ms. McDermott was now possession title due to the joint tenancy agreement. Her position was that a vast body of case law held that gratuitous options were akin to offers that expired at death. However the North Dakota courts ruled that its resident, Mr. Pifer, could exercise the purchase option and that it was like a "gift" that had passed to him. (Pifer v. McDermott, 836 N.W.2d 432, August 29, 2013) According to the petition, when the case went for appellate review, Mr. Pifer had personal relationships with two justices. He was Facebook friends with Justice Sandstrom. In addition, a judge who had previously recused himself, Justice Carrothers, changed his position and decided to "un-recuse" himself from the case. Ironically, the petition states that Justice Carrothers has written a journal article about the impropriety of Facebook relationships with judges and parties. (Daniel J. Carrothers, "Judicial Use of Social Media," National Association of State Judicial Editors website, January 26, 2011)
According to filings, Attorney John Siskopolous states, "With the explosion of social media, we think it's an issue that our nation's highest court should address. The state appellate courts in this country, and the federal appellate courts, should have some guidance on this important issue (Facebook friendships between judges and parties)." The petition cites examples of other cases where Facebook friendships have been ruled prejudicial and led to recusal or reversal. See Domville v. Florida, 103 So.3d 184 (September 5, 2012), Disqualification of Judge for Facebook Friendship and Kansas v. Sawyer, 297 Kan. 902 (July 26, 2013) Recusal of Judge for Facebook Friendship. John Siskopoulos further added, "The average American feels the U.S. Supreme Court is supposed to protect the little guy. Barbara McDermott is the little guy. Many Americans, and I speak to numerous potential appellants and petitioners, feel the U.S. Supreme Court has forgotten the little guy. We sincerely hope that this Court not only grants Cert., but ultimately rules in my client's favor. Otherwise, when a Judge is confronted about a social media friendship he or she may respond 'So what? Proceed.' We cannot tolerate that in our legal system."
Alexandra Siskopoulos further added in court filings, quoting Justice Stevens, "[I]n matters of ethics, appearance and reality often converge as one… [J]ustice must satisfy the appearance of justice' and must also preserve both the appearance and reality of fairness, which generates the feeling, so important to a popular government, that justice has been done." A full commentary from Alexandra and Siskopoulos is available at http://www.supremecourtpress.com/Petition-of-the-Month/McDermott-Petition-Feb-2014.html
About the Supreme Court Press: The Supreme Court Press is a Supreme Court legal printer and a Supreme Court filing service. The Supreme Court Press files petitions for writ of certiorari in compliance with the Rules of the Supreme Court. But that is only the tip of the iceberg of the value that we add - our expert team has the editorial talent and Supreme Court brief experience to provide meaningful, game changing suggestions to your document. We will work hand in hand with you to exquisitely prepare, edit, print, and file your documents, taking the worry out of the process for you, and improving your odds of getting in. Call us at 888-958-5705 or email us at editor(at)supremecourtpress(dot)com to discuss your filing needs.
About the Petition of the MonthTM : The Supreme Court Press' Petition of the MonthTM program recognizes applicants to the Supreme Court with well-written petitions for writ of certiorari that address important questions of law. We look for cases that meet the criteria of Rule 10 of the United States Supreme Court – important issues where the underlying decision is in conflict with the Supreme Court, another Court of Appeals, or the United States Constitution. If you have a pending petition that you believe is worthy of Petition of the MonthTM advice, you can email us at editor(at)supremecourtpress(dot)com
Disclaimers: The Supreme Court Press does not provide legal advice. The Supreme Court Press does not endorse either party in this matter and expresses no legal opinion on any case selected as Petition of the Month(TM) .