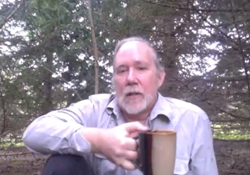 People will gain a new clarity and lay out a practical plan for moving forward. There's hope. In fact, there's real change waiting just from this complementary strategy session.
(PRWEB) March 30, 2014
The number one reason people come to Kwan Yin Healing is that they are stuck in some way – career, health, life direction, fulfillment, something. And, not surprisingly—they experience no small amount of frustration and even resignation as a result. Often they've tried reasonable approaches already, only to remain stuck. They're looking for answers.
"When we're truly stuck, it's because we don't know what the real problem is," explains Kwan Yin Healing's Tim Emerson, "because if this were the real problem, it would already be in the process of solution, at least in the long term. By definition really—we've already applied what seemed like reasonable approaches, but without success. It's a sure sign we're solving the wrong problem. It's a tangent. A distraction. Misdirection."
"But when the world doesn't match our fiction, we know something is wrong. Since it can't be *us* -- because our beliefs, of course, are the 'true' ones – it must be the 'Others.' The bosses, the politicians, the teachers, the neighbors, the relatives, the economy, the system, the society today…that's what's keeping us down – right? As long as we cling to the beliefs of our comfort zone, yes. So we stay stuck. Joseph Campbell was right. We can't stay here. This is not were the magic happens."
So how do we climb out of this morass?
"Awareness is the first step," explains Emerson. "Recognize, when something is insolvable, that you're looking at the wrong problem. Find the real problem. Let go of the fictional one, however well entrenched. Let's take a common one – Money as a manifestation. This is a classic problem vs. reality issue. Money is not a source – it's a means. That's why so many people struggle with it, while others seem to float above this problem. They're trying to solve the wrong problem."
Emerson offers an 11-week "Kwan Yin Journey" to "get unstuck, heal your life, and live your dreams." "Often, though, people aren't ready for a through journey, because they're still wrestling with the problems they see at step one," notes Emerson.
In April, he'll be offering a limited number of no-cost consultations for exactly this purpose.
"People will gain a new clarity and lay out a practical plan for moving forward. There's hope. In fact, there's real change waiting just from this strategy session. Sure, taking the full program is going to offer far more depth and transformation. But let's get folks started."
Emerson will offer the sessions through his email list, available at http://kwanyinhealing.com. "If a couple of your friends might benefit from these sessions, have them sign up so they get the announcement in a week or two," encourages Emerson. "And if it's a good fit for you too, be ready to jump on it! I can only do so many with a cramped calendar, but I'll try to see everyone interested gets some benefit."
Kwan Yin Healing offers everyone who signs up a gift of six teleseminar recordings:

Living Abundance (and why this isn't simply money)
Emotional Challenges and Fear
Stress, Overwhelm and Uncertainty
Finding Peace, Spiritual Growth, and Living this daily in the "Real World"
Getting Unstuck and Manifesting your Dreams and Desires
If Healing isn't Magic, Where do I get the Miracle? The Kwan Yin Path
...and a bonus, "Twenty Truths," an overview of the key concepts in the previous six sessions.
Kwan Yin Healing was founded in January 2012 to accommodate Emerson's growing healing clientele, and has grow to serve clients in North and South America, Europe, and Australia. The Kwan Yin Healing website offers a wealth of video, blog posts, and self-assessment – http://kwanyinhealing.com. Emerson is also a member of the Evolutionary Business Council and President of the Syracuse chapter of the Holistic Chamber of Commerce.