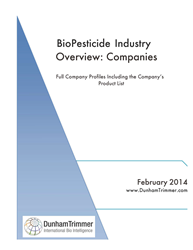 DunhamTrimmer Launches Biological Industry Report Series & Predicts Biopesticide Market to Surpass $3 Billion by 2016.
(PRWEB) May 28, 2014
Industry Overview Detailed Profiles:

Companies: Profiles of >135 companies from 25 countries
Products: Profiles of >1,000 Microbial & BioChemical Products
MacroOrganisms: Companies & Products Profiles covering 20 countries & >500 Products
Industry Data Reports: (sortable Excel summary data)

Report 1—Biopesticide Company Data Summary
Report 2—Biopesticide Company Contact Data Summary
Report 3—Biopesticide Product Data Summary
Report 4—MacroOrganisms Company Summary & Contact Data
Report 5—MacroOrganisms Product Data Summary
Industry Overview Profiles Include the Following Information:
Companies

Contact Information
Key Staff
Commercial Products
Recent News Events
Company Overview
Company Background
Research & Development Activities
Commercial Activities
Manufacturing
All Profile reports Are Bookmarked PDF File Reports
Products

Product Trade name
Active ingredient name
Active ingredient concentration
Mode of action
Formulation type
Key crops
Key pests
Registration information
Industry Data Reports Include the Following Information:
Companies

Activities & Type
Location
Key Staff Contacts
Additional Data Included
Products

Trade names
Use Segments
Product Types
Additional Data Included
Pricing

Any 1 Industry Overview Profile: $1,490 USD
Any 2 Industry Overview Profiles: $2,590 USD
Any 3 Industry Overview Profiles: $3,190 USD
Any 1 Data report: $690 USD
Any 2 Data reports: $1,190 USD
Any 3 Data reports: $1,690 USD
Any 4 Data reports: $2,190 USD
All 5 Data reports: $2,590 USD
If you would like to purchase the entire series of Industry Overview Profiles and Data Summary Reports, the cost is: $5,500.
When you purchase $1,000 or more in products, you will receive one update to the report(s) purchased within the 12-month subscription time period. Additionally, you will automatically receive a complimentary issue of our cutting-edge newsletter, 2B Monthly The Global Biocontrol & Biostimulants Newsletter ($100 value).
DunhamTrimmer LLC has joined forces for this exciting new report with New Ag International.
Please visit http://www.DunhamTrimmer.com to order your reports today.