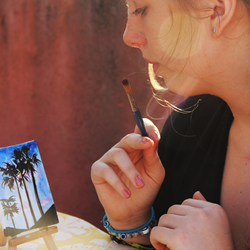 lullubee Mini Kits are great for play dates and birthday parties.
New York, NY (PRWEB) April 01, 2014
lullubee.com, an online crafts company offering high quality, ready-to-make classic craft kits that craft fans can make with their friends and family, has just launched their new Mini Kit line.
lullubee's new line of Mini Kits provides crafty kids with fun, high quality, and easy to make craft projects that can be completed in a short period of time. Ideal for play dates and birthday parties, lullubee Mini Kits are also ideal for use at home, in the classroom, or while travelling.
lullubee's line of Mini Kits includes the following:

Bling Mini Kit (makes 10 rings)
Snow Crown Mini Kit (makes 1 crown)
Clothespin Doll Mini Kit (makes 4 clothespin dolls)
Artist Mini Kit (contains 2 canvases)
Princess Wreath Mini Kit (makes 1 wreath)
Pin Me Mini Kit (makes 3 pins)
Terrarium Mini Kit (makes 1 terrarium)
Race Car Mini Kit (makes 5 race cars)
Monster Puppet Mini Kit (makes 5 monster puppets)
lullubee Mini Kits can be found at select Hallmark Gold Crown stores (locate a store near you).
To learn more about lullubee, or to carry lullubee Mini Kits in your store, please visit lullubee.com.
About lullubee
Founded in 2012 by Tiffany Dekel and Laura Lee Burch, lullubee was created to make it easier for you to start crafting. Lullubee offers a line of classic craft kits and monthly subscriptions. Lullubee's kits feature easy-to-follow tutorials and all the materials you need. Lullubee craft kits and Craft of the Month Clubs are available at lullubee.com. Gift subscriptions are also available.
Contact lullubee
Tiffany Dekel
(917) 387-4664
press(at)lullubee(dot)com
Wholesale queries
wholesale(at)lullubee(dot)com