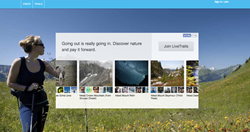 Photos of one trail can captivate but photos from many trails inspire exploration and discovery.
Vancouver, BC (PRWEB) April 01, 2014
Outdoor enthusiasts all over the World have the same challenge of finding current information. Few trails have updated websites. Trail information is not only static information. The content is largely dynamic.
LiveTrails (http://www.livetrails.com) is a virtual notice board on every trail where the outdoor community can leave notes and photos for one another. Anyone can create a trail anywhere in the World and post their photos and experiences. Visitors to the website can easily find information and photos of their local trails.
When the founder Mr. Wasfi landed in Vancouver, Canada 15 years ago, he developed a strong passion towards the green nature of his new county. He quickly discovered hiking and started the site 5 years ago. He launched the new version of LiveTrails today.
"Our vision is to deepen people connection and elevate their respect to nature. We often talk about CO2 but nature is not a gas. We really need to think about it differently. I think the first step to conserve nature is to get outside and enjoy it."
"Photos of one trail can captivate but photos from many trails inspire exploration and discovery and allows the first step to happen at scale."