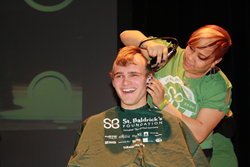 Shaker Heights, Ohio (PRWEB) March 31, 2014
Some 118 students, six teachers and one parent at University School's Shaker Heights Campus recently shaved their heads to raise an unprecedented $100,000 for childhood cancer research. Headmaster Steve Murray parted with his beloved mustache, which he has sported for 30 years, as part of the school's "Save or Shave the 'Stache" challenge.
This is the fifth year that University School has hosted the event to benefit St. Baldrick's Foundation, which makes grants to research institutions to find new cures for childhood cancer. University School is one of the top fundraising teams in the Cleveland area. Last year, Team University School raised an unprecedented $68,000 with 88 participants.
Since the first St. Baldrick's event in 2000, over $192 million has been raised for childhood cancer research. In Cleveland, the organization has raised well over $2 million since 2001.
Worldwide, a child is diagnosed with cancer every three minutes. Despite tremendous progress, cancer remains the number one disease killer of children in the U.S. St. Baldrick's has committed more than $127 million to lifesaving research since 2005. In 2013 alone, St. Baldrick's raised over $34 million for childhood cancer research, and now funds more childhood cancer research grants than any other organization, except the U.S. government.
For more information visit http://www.stbaldricks.org.