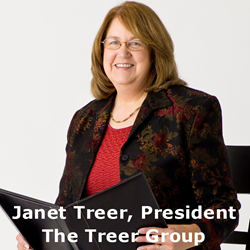 ADVanced Insights Strengths Profiles can help staffing agencies improve their placement success.
Lancaster, PA (PRWEB) March 31, 2014
The Treer Group has announced a program specially designed for staffing agencies to provide comprehensive, specialized talent assessments and personality profiles that help improve placement success. The Treer Group's ADVanced Insights Strengths Profiles enable staffing agencies and employers to better predict how successful individuals will be in new positions. A special introductory incentive will be offered.
"The right talent assessment and personality profile can be an invaluable screening and hiring tool," says Janet Treer, President of The Treer Group, a coaching, leadership development and management consulting firm based in Lancaster, PA. "Our ADVanced Insights Strengths Profiles provide reliable insight into how successful employees will be in prospective jobs. We are excited to be partnering with staffing agencies by providing our assessments and interpretation services."
ADVanced Insights, a set of three highly effective assessments, creates a multi-dimensional profile of prospective employees' natural talents, motivators and behaviors. Understanding the candidate's personal characteristics give search professionals invaluable insight into how well an individual will align with a specific position and employer during the recruitment process. The outcomes are better placements and reduced repeat searches.
"Most profiles out there only assess one aspect of a prospective employee's personality," says Treer. "This can be helpful, but it is incomplete. ADVanced Insights assesses the three key personality dimensions, which predict performance with far greater accuracy."
The three personality dimensions are:
Natural Talents – how people think and make decisions
Motivators – what people value and what drives them
Behaviors – how people prefer to behave
When combined, these dimensions reveal the what, why and how of personal traits, so crucial success factors are less likely to be missed with ADVanced Insights.
ADVanced Insights has proven reliability, confirmed in more than 28 individual validation studies conducted over two decades. It meets the rigorous standards for employment assessments referenced by the U.S. Federal Government Equal Employment Opportunity Commission (EEOC) and has also been documented in the areas of Construct Validity, Concurrent Validity, Face Validity and Predictive Validity.
"We are very excited about bringing the power of our assessment to staffing agencies," says Treer. "To introduce ADVanced Insights Strengths Profiles to agencies, we are offering one complimentary assessment to qualifying agencies."
Read More About Personality Profiles
Subscribe to Management Updates, The Treer Group's Monthly Bulletin
About The Treer Group:
The Treer Group provides coaching, assessments, tools and guidance to help organizations and individuals identify areas in need of improvement, discover practical solutions and implement long-lasting change that comes from within. Janet Treer, President, founded The Treer Group in 2007.