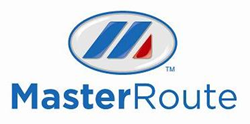 Pete Martin, CEO of 1st Choice Security Solutions, says, "MasterRoute provides us with the advanced technology to fully leverage our solutions worldwide."
Phoenix, AZ (PRWEB) April 04, 2014
MasterRoute, a leading distributor of Machine-to-Machine (M2M) wireless solutions, has agreed to become a primary distributor for GeoDecisions' geographic information system (GIS) and global positioning system (GPS) solutions. In addition, through a partnership with 1st Choice Security, MasterRoute will become the primary supplier of M2M devices, GIS/GPS data services and advanced mapping solutions for 1st Choice Security, a leading global supplier of RFID software and hardware. These partnerships position MasterRoute to serve customers across a wide range of industries with integrated, one-stop solutions for GIS/GPS/RFID hardware and software.
Through this agreement, MasterRoute will co-market GeoDecisions' GIS/GPS Integration with 1st Choice Solutions' RFID platforms. MasterRoute will now be serving business and government customers with GeoDecisions' enterprise geospatial information technology solutions, including the GeoDecisions Intelligent Location Server (GeoILS). MasterRoute's product line now also includes 1st Choice Security's ultra-long-range, hands-free RFID Readers, tags, accessories and software for vehicle identification, asset-loss prevention and real-time inventory.
A key differentiator with the MasterRoute Global solution is a reliance on the GeoDecisions geospatial back-end engine that enables enhanced enterprise system and data integration. MasterRoute clients now can more easily obtain integrated views of their mobile and fixed assets, rather than needing to jump between separate views of mobile and other non-GPS assets using active or passive RFID solutions. This integrated approach provides organizations with a single view of mobile and fixed assets along with streaming video feeds, saving staff time and eliminating redundancies and errors.
MasterRoute Global mapping is "device and service-provider agnostic," which allows for the porting of existing hardware onto the portal platform without the need to purchase all new hardware. The simple switch of a SIM-card can migrate assets to MasterRoute's advanced mapping in most cases. MasterRoute's multiple mapping systems, each with a robust set of functions and reports, are distributed through their VARs as "white labeled" mapping solutions for a range of applications.
Pete Martin, CEO of 1st Choice Security Solutions, says he chose MasterRoute based on its excellent mapping systems and its long list of worldwide cellular and satellite providers. Pete stated, "MasterRoute provides us with the advanced technology to fully leverage our solutions worldwide."
"We look forward to working with MasterRoute and providing new clients with enterprise geospatial and asset management solutions," said Brendan Wesdock, president of GeoDecisions. "This new partnership also enables us to provide 1st Choice Security Solutions RFID capabilities to our GeoILS customers."
MasterRoute is a distributor of advanced wireless data solutions to the fleet/asset management and machine-to-machine (M2M) industries providing value through an increase in efficiency, expertise, and services. Established in 2012, MasterRoute now has a network of over 500 Value Added Resellers (VARs) in the United States, Europe, and Asia.
GeoDecisions' experienced consultants, analysts, and developers support clients worldwide. Fundamental to the company's award-winning approach is the integration of spatial information to empower existing systems and processes. GeoDecisions' philosophy is based on an enterprise wide approach to the integration of diverse information technologies, data formats, and systems. GeoDecisions is ISO 9001:2008 Certified.
For additional information on the news that is the subject of this release, contact:
Mr. Larry Colvin
MasterRoute
40 North Central Avenue
Suite 1400
Phoenix, AZ 85004
Office: 708.387.7589
Toll Free 855.447.6883
Cell: 630.201.7422
Fax: 630.203.1628
Email: lcolvin(at)masterroute(dot)com
http://www.masterroute.com
Or
Jonathan Pollack
GeoDecisions
Suite 250
4722 North 24th Street
Phoenix, AZ 85016
Cell: 717.503.3750
Fax: 602.553-8816
Email: jpollack(at)geodecisions(dot)com
http://www.geodecisions.com
Or
1st Choice Security Solutions
1000 Cooper Circle
Suite 210
Peachtree City, GA 30269
Phone: 770-487-7727
Fax: 770-487-7765
Email: Sales(at)1stChoiceSecuritySolutions(dot)com
http://www.1stChoiceSecuritySolutions.com