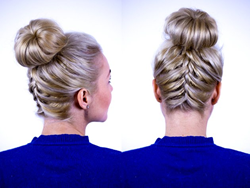 At Becomegorgeous.com, our mission is to help women find hair styling ideas that match their needs.
(PRWEB) March 31, 2014
The spring season is a good time for experimenting with new hairstyles and making a few style updates. Braided updos are both a practical and trendy choice worth considering, whenever stepping things up a notch and creating a polished yet effortlessly chic look is desired. The upside down French braid updo and the multiple braid updo hair tutorials from Becomegorgeous.com are two hair styling ideas which can help keep style ruts at bay this season.
The upside down French braid updo tutorial from Becomegorgeous.com highlights every step of creating a cool updo that can elevate any casual look and which can effectively conceal greasy hair. Moreover, the look is fairly easy to master and can be a suitable choice even for busy mornings, once the techniques of creating the look are mastered.
The video tutorial illustrates each part of the process, offering helpful instructions along the way to make the process of creating the look easier to understand. To further simplify things, the article also includes photos showing the main stages of the process and a list of written instructions for quick references.
The multiple braid updo on the other hand, is a hairstyle that requires a little more time to create, however its chic, romantic allure definitely makes the effort of mastering the technique of creating the look worthwhile. As the name suggests, the updo includes several French braids which are cleverly combined for an interesting effect. The process of creating this ladylike hairstyle is highlighted in the smallest details in the video tutorial created by Becomegorgeous.com, which also offers verbal instructions of each of the steps required to create the look.
Photos revealing the main stages of creating this feminine updo and clear yet comprehensive written instructions of each part of the process help eliminate possible misunderstandings which can interfere with the learning process.
About us
Becomegorgeous.com was created in 2007 and has become a comprehensive source of information on high interest topics for women of all ages ever since. Its goal is to help women find the tools they need to be able to explore their full potential and become the best version of themselves. It focuses on delivering high quality content on a myriad of subjects ranging from fashion, makeup and beauty care tips to health and fitness, love and relationships, travel and living and entertainment. The growing beauty community allows users to share their thoughts and concerns with like-minded individuals.