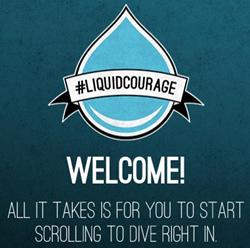 "Our hope is to create a fun and engaging platform to raise awareness about the water challenges we face and the practical solutions we can take for a more sustainable future."
New York, NY (PRWEB) March 31, 2014
On Monday, March 31, The Nature Conservancy will engage more than 1 million people in an automated social media flash mob to raise awareness about local and global water risks and the role of nature in providing clean water. This online activation—the first of its kind undertaken by the 62-year-old Nature Conservancy—will utilize ThunderClap, a crowd-speaking platform that blasts out a timed Facebook post or Tweet from supporters who sign up for an activation to their social networks. The ThunderClap event is part of the Conservancy's larger campaign to engage US-based urban millennials (people between the ages of 18-30) in domestic and international water issues and conservation.
While 70% of the planet is covered by water, only 0.03% of it is easily accessible and drinkable. And many of the water resources that are available are under severe threats from development, over-use, climate change, and pollution. By 2030, two-thirds of the world's population could be living in water-stressed areas. These challenges are not limited to developing countries, as we've recently been witnessing in California. An analysis of 225 U.S. cities found that 17% have moderate to severe water scarcity, even when taking into account imported and stored water.
The Conservancy's new website, H2.O (water.nature.org), and its associated "Liquid Courage" marketing campaign, are part of an effort to engage a new audience that is actively online and engaged in social issues but largely unaware of water challenges in the U.S. A national poll commissioned by the Conservancy in 2012 found that 77% of Americans (not drawing water from their own wells) don't know where their water comes from.
"Unfortunately, far too many people are unaware of the significant water challenges that we face not only globally, but also in our own backyards," says Adam Freed, Director of the Conservancy's Securing Water Program. "Our hope is to create a fun and engaging platform to raise awareness about the water challenges we face and the practical solutions we can take for a more sustainable future. Our aim is to give the world some 'Liquid Courage.'"
H2.O represents a new approach for the Conservancy to engage new audiences in their mission. The site and Liquid Courage campaign utilizes several unique features to attract and engage visitors, such as:

Identifying visitor's location through their IP address to provide locally-relevant content about water supplies, the Conservancy's efforts, and actions they can take to reduce water risks;
Extensive use of social media channels to spread the Conservancy's message through social networks, enabling visitors to share information without leaving the H2.O experience;
New language, voice, and visuals to attract millennials and younger audiences while maintaining a science-based, data-driven approach to conservation, and;
Use of new partnerships and tools such as Thunderclap to maximize the reach of our message and content.
"It takes guts to take on the global challenges we face and to create a social movement to demand change, but we all have a role to play in addressing our global and local water crises," says Freed.
About The Nature Conservancy
The Nature Conservancy is a leading conservation organization working around the world to conserve the lands and waters on which all life depends. To date, the Conservancy and its more than one million members have helped protect 130 million acres worldwide.
The Conservancy has more than 400 freshwater experts and more than 100 current and recent freshwater projects in 35 countries. . Visit The Nature Conservancy on the Web at http://www.nature.org/.
About the Conservancy's Securing Water program
Through its Securing Water program, The Nature Conservancy is focused on helping cities chart a more sustainable pathway to urban growth by recognizing the value of and investing in the natural systems on which they rely for water services. With over 60 years of conservation experience and history of completing complex financial transactions, along with unique scientific and policy expertise, the Conservancy is helping cities protect and manage their water supplies through science-driven action, smart advocacy and strategic partnerships.