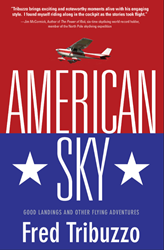 "Tribuzzo brings exciting and noteworthy moments alive!
(PRWEB) March 31, 2014
On April 15, 2014, Köehler Books will release author Fred Tribuzzo's first work of non-fiction, American Sky. Six-time world-record holding skydiver Jim McCormick notes, "Tribuzzo brings exciting and noteworthy moments alive!"
American Sky is the story of a young man going to work for a father and a son, learning to start a Lycoming engine on a hot summer day, as well as the daily humor, courage and vision to pursue dreams. Whether attending a training session with a fellow pilot whose relative snapped the famous photograph of the Wright Brothers' first flight, or listening to a cab driver's pithy remarks before a long flight home, the author encounters people and random experiences as if they're signposts of life. He learns that a teacher can often be a place, a stranger, a storm, the sky itself. On the eve of starting flight lessons, a World War II veteran insists the author give up sailplanes and experience powered flight—the joy of driving straight up into the clouds.
Fred Tribuzzo has been published in Flying magazine and has flown aircraft from the J3 Cub to the fastest corporate jet ever made—the Citation Ten. He also flew internationally for eight years on a corporate Boeing 737 for the Columbus-based Netjets. He is also the author of Saint Nick, the tale of a burned-out, middle-aged bankruptcy lawyer who is shocked into a new world view in time for Christmas, and a literary agent with The Rudy Agency. Tribuzzo places historical fiction and thrillers for the agency.
In talking about American Sky, Tribuzzo says: "I knew at the time of my uncle's death that something important had been handed down to me—his love of flying. Two months later, at the age of twenty-six, I soloed in the same type of aircraft that he had owned: an unadorned, two-seat Cessna trainer. In twenty years I would be flying at 600 mph and two miles above the other traffic, working for a world-class company in the latest state-of-the-art jet. I believe my uncle would have smiled had he heard the controller ask us to begin our 'reentry,' instead of the standard: 'descend and maintain….'"
Among those who have endorsed the book is Bob Livingstone, author of Under the Southern Cross and B-24 flight adviser for the movie Unbroken. He notes: "American Sky is no ordinary book about flying; it's as much about the people who populated Fred Tribuzzo's world of aviation, good and bad, as it is about flight."
American Sky: Good Landings and Other Flying Adventures
Fred Tribuzzo
Köehler Books
ISBN: 978-1-938467-91-2
Pub Date: 04/15/2014
Price: $17.95