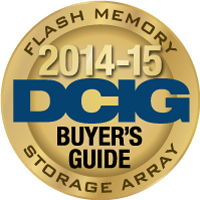 "As we did the research, it was clear that flash has come a long way in the past twelve months. It's not unheard of for the current generation of Flash Memory Storage Arrays to deliver twice the IOPS for half the price of the prior generation."
AUSTIN, TX (PRWEB) March 31, 2014
DCIG today announced publication of the DCIG 2014-15 Flash Memory Storage Array Buyer's Guide. Analysts with DCIG evaluated and ranked all-flash offerings from 20 leading companies, producing an in-depth Buyer's Guide that is designed to aid customers in their purchasing decisions.
Since publication of DCIG's first Buyer's Guide, the industry has witnessed a dramatic shift in the industry: participation from many new entrants, technology maturation, and broader customer adoption. The recent emergence of flash memory storage arrays in enterprise environments is a phenomenon. Already able to deliver dramatically better IOPS and latencies for random IO workloads, and much better power efficiency than HDD (Hard Disk Drive) storage, flash memory storage arrays are quickly shrinking the large physical footprint of traditional storage systems in enterprise data centers.
The advent of multi-terabyte SSDs, the ability for all flash arrays to run the same storage operating system as existing storage systems, overall improvement in application performance along with the advent of software defined storage requirements, have fuelled a growing interest in all flash memory storage arrays. This interest means greater competition among companies to provide solutions that businesses need in order to address their ever-growing storage challenges. These challenges go beyond price and performance.
"As we did the research, it was clear that flash has come a long way in the past twelve months. It's not unheard of for the current generation of Flash Memory Storage Arrays to deliver twice the IOPS for half the price of the prior generation," said Ken Clipperton, DCIG Managing Analyst and author of the DCIG 2014-15 Flash Memory Storage Array Buyer's Guide. "Many of the solutions featured in the new Buyer's Guide also deliver more than twice the storage capacity of the prior generation along with a more complete feature set to meet a wide range of customers' needs. Many people assume flash memory is expensive, so it may surprise them to learn that a switch to flash storage can achieve 30% hard cost savings for a data center, and a return on investment within eleven months."
For the DCIG 2014-15 Flash Memory Storage Array Buyer's Guide, DCIG, LLC evaluated 39 offerings from 20 companies. After an initial survey containing more than 150 questions was completed, product capabilities were assessed based on data provided by the vendor, prior DCIG research, and information available in the public domain. Products were then evaluated on more than 130 features. After scores were compiled, products were ranked Best-in-Class, Recommended, Excellent, Good, or Basic across functionality and capability relative to the other products included in the Buyer's Guide.
The intent for this Buyer's Guide, as with all DCIG Buyer's Guides, is to provide an "at-a-glance" comparison from which end users can select the most appropriate solution for their existing needs. This Buyer's Guide also provides perspective on how solutions from less well known flash memory storage arrays compare against established and better known brands.
The DCIG 2014-15 Flash Memory Storage Array Buyer's Guide Top 10 solutions include (in alphabetical order): Hitachi Data Systems HUS VM; HP 3PAR StoreServ 7450 Storage; NetApp FAS3250 Series AFA, FAS6290 Series AFA; Nimbus Data Gemini F600; F400; PureStorage FA-400 Series Controller; SolidFire SF9010, SF6010; and the Tegile Zebi HA2800
The Nimbus Data Gemini F600 earned the Best-in-Class ranking among all Flash Memory Storage Arrays in the Buyer's Guide. According to Nimbus Data, their fourth-generation Gemini F600 increases write performance by 4x and read performance by 2x compared to the prior generation, to deliver up to 1 million 4K write IOPS and 2 million 4K read IOPS with latencies of approximately 50 microseconds. The Nimbus Data Gemini F600 also stood out in the following ways from other flash memory storage arrays listed in the Buyer's Guide:

Has raw flash storage density of 24TB per rack unit, delivering up to 1PB in a 42U cluster
Has comprehensive flash optimization support, including thin provisioning, lossless in-line deduplication and compression that effectively multiplies the raw storage capacity
Features 8 x QSFP+ ports for 56Gb FDR InfiniBand and 40 Gigabit Ethernet
Has comprehensive hypervisor integration, including support for Microsoft Windows Offloaded Data Transfer (ODX)
The DCIG 2014-15 Flash Memory Storage Array Buyer's Guide achieves the following objectives:

Provides an objective, third party evaluation of flash memory storage arrays that evaluates and scores their features from an end user's perspective
Scores and ranks features on each flash memory storage array based on criteria that matter most to end users
Provides a standardized data sheet for each of the flash memory storage arrays so users may do quick side-by-side comparisons of products
Provides insights into what features on a flash memory storage array will result in improved availability and increased storage capacities
Gives any organization a solid foundation for getting competitive bids from different providers that are based on "apples-to-apples" comparisons
"Flash memory storage arrays are now viable replacements for traditional storage arrays in enterprise data centers," added Clipperton. "We have noted significant progress from the introduction of the 2013 Buyer's Guide where we hoped data efficiency technologies would be more broadly adopted. In the latest Buyer's Guide, 90% of arrays evaluated support thin provisioning with 56% also supporting storage reclamation and other features important to enterprise users. There's never been a better time for organizations looking for flash memory solutions that not only solve specific performance issues, but also have the capacity to accelerate all enterprise applications; enabling businesses to get more done in less time while consuming fewer resources."
Disclosure and Methodology
DCIG identified 20 companies that provide flash memory storage arrays. Each flash memory storage array had to meet the following criteria:
Be available as an appliance
Is not based on Microsoft Windows Storage
Must support a minimum configuration containing only SSDs
Must use SSDs as primary storage, but may support mixed configurations of HDDs and SSDs
Must support one or more of the following storage protocols: iSCSI, Fibre Channel, InfiniBand, NFS
Sufficient information available for DCIG to make meaningful decisions
Must be generally available by March 31, 2014
No vendors, whether clients or not, were afforded preferential treatment in the Buyer's Guide. All research was based upon information provided directly by vendors, research and analysis by DCIG and other publicly available information.
It is worth noting that each Buyer's Guide is not intended to be a substitute for internal testing. DCIG encourages any organization that is considering the purchase of any solution included in a Buyer's Guide to do its own in-house testing.
Availability
The DCIG 2014-15 Flash Memory Storage Array Buyer's Guide is available immediately and may be downloaded for no charge with registration at the following http://dcigbuyersguides.com/.
Resources:
DCIG Blog: http://www.dcig.com
About DCIG
DCIG is a group of analysts with IT industry expertise who provide informed, insightful, third party analysis and commentary on IT hardware, software and services.
DCIG independently develops and licenses access to DCIG Buyer's Guides. DCIG Buyer's Guides provide actionable intelligence through comprehensive, in-depth analysis of data center infrastructure product features. DCIG also develops sponsored content in the form of blog entries, customer validations, product reviews, special reports and executive, standard and full-length white papers.
DCIG's target audiences include C-level executives, IT managers, systems and storage engineers and architects, press/media, magazine and website editors, bloggers, financial and technical analysts, and cloud service providers.