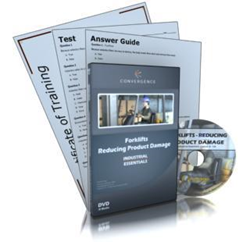 "The DVD offers a complete training course for new employees and as a refresher course. It offers both safety techniques and damage control."
Lake Oswego, OR (PRWEB) April 01, 2014
Safety and profits are major concerns to a business owner or manager and every workplace has hazards that could jeopardize both. Creative Safety Supply is now offering a DVD for Forklift drivers on the techniques for reducing product damage. When inventory is either produced or brought in as supplies, it requires proper handling and storage. As forklifts move around inventory, accidents are likely to happen that could potentially damage merchandise that could cost a company profits.
Forklifts-Reducing Product Damage DVD covers common ways that forklift operators cause product damage in warehouses. The DVD will recommend practices for avoiding unnecessary accidents and is meant to be used as an introductory or refresher course for forklift operators. The DVD includes links to download printable tests, answer guides, and completion certificates. The DVD is an easy and affordable solution for training and testing employees. The video run time is only 15 minutes, an estimated testing time of 9 minutes, with a total training time of only 24 minutes.
Employees that lack proper safety and forklift training or are just simply trying to shortcut the job at hand, will undoubtedly cause harm to themselves, others, equipment, and anything else that may be in its way. Forklift operator training, to maximize safety in the workplace, is very important because it exposes forklift operators to some of the potential risks and unsafe situations they could be faced with as they go about their normal day to day activities. If proper forklift training is overlooked, serious injury or worse, a fatality could occur.
A warehouse supervisor commented, "The DVD offers a complete training course for new employees and as a refresher course. It offers both safety techniques and damage control."
For more information about Forklifts – Reducing Product Damage DVD, please contact Creative Safety Supply at http://www.creativesafetysupply.com or call toll-free (866)777-1360 to speak with a professional representative.