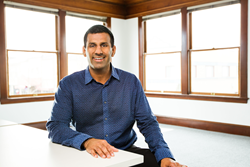 "Gild's focus on customer success in hiring aligns with my own belief that customer success is critical to vendor success in today's market," said Mehta. "I'm looking forward to being a part of the Board that takes Gild through its next phase."
SAN FRANCISCO, CA (PRWEB) March 31, 2014
Gild, which powers companies' hiring process with data, intelligence and automation, today announced that Nick Mehta, CEO of Gainsight, has joined Gild's Board of Directors to provide business leadership and counsel. Mehta, a recognized leader in SaaS and pioneer in customer success software, is one more example of the caliber of leadership Gild is attracting to its Board, as well as its commitment to investing in customer success.
"Nick brings a unique business perspective to our Board of Directors," said Sheeroy Desai, Co-founder and CEO of Gild. "2013 was a phenomenal year of growth for Gild and we expect that growth to continue in 2014. Nick's visionary work in the SaaS business, as well as his experience in building the teams that ensure customer success, will complement the guidance already being provided by our Board."
Mehta is recognized in the industry for developing successful companies, including the teams within those companies. He was the CEO of LiveOffice when it was acquired by Symantec in 2012 for $115M. And now as the CEO of Gainsight, Mehta has proved customer success to be a revenue generator.
"Gild's focus on customer success in hiring aligns with my own belief that customer success is critical to vendor success in today's market," said Mehta. "As Gild continues to grow, the customer success factor will become increasingly important. I'm looking forward to being a part of the Board that takes Gild through its next phase and beyond."
Gartner Group recently named Gainsight a 2014 Cool Vendor for CRM Sales -- a recognition that further validates the growing importance of customer success in driving top-line retention revenue and optimizing the lifetime value of customer relationships.
"Gild customers receive dedicated support and strategic advice from recruiting leaders to ensure hiring success," said Brad Warga, Senior Vice President of Customer Success at Gild. "Nick's approach to business maps perfectly to our own high-touch approach."
Gild's Board of Directors also includes Venky Ganesan, managing director of Menlo Ventures; Mark Kvamme, former Sequoia Capital partner and investor in LinkedIn; Steve Anderson, an early investor in Instagram, IMGPOP and Heroku; Andy Goldfarb, co-founder and Managing Partner at Globespan Capital Partners; Sheeroy Desai, co-founder and CEO, Gild Inc.; and Luca Bonmassar, co-founder and Chief Product and Technology Officer, Gild Inc.
For more information on Gild, visit: http://www.gild.com/press-release
About Gild
Gild helps companies hire skilled developers by ensuring that candidates stand out on their proven abilities, not just their resumes. Backed by proprietary data analysis that examines developers' actual work, Gild's tech hiring software is used by growing companies like Eventbrite, Red Hat, and Rackspace to find the developers they need to innovate. Founded in 2011, Gild is headquartered in San Francisco and has offices in Salt Lake City and Milan.