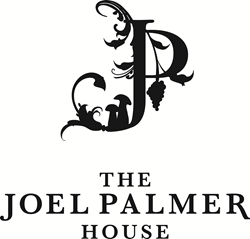 Dayton, Oregon (PRWEB) March 31, 2014
The outdoor dining area at the Joel Palmer House in Dayton, Oregon has for years been the best spot of the Willamette Valley for diners to enjoy a mushroom themed dinner with local Pinot Noir. In April 2014, renovations will begin on the carriage house to create a covered, outdoor dining area that will expand the Joel Palmer House's ability to serve their guests.
The carriage house building is adjacent to the main Joel Palmer House. Built in the 1970's, it was modeled to complement the Georgian Revival style of the historical Joel Palmer House. Since the Czarnecki Family purchased the property in 1996, the carriage house has served as a dry and cold storage area for the restaurant as well as a truffle processing facility for the production of Oregon White Truffle Oil.
Due to the often wet, but still temperate weather of Oregon spring and fall seasons, the Czarnecki Family lamented the fact that the outdoor dining area has gone unused even when there is only a slight drizzle or threat of rain. By converting half of the existing carriage house structure into an expanded covered dining area, guests of the Joel Palmer House will be able to enjoy outdoor dining in a dry, warm, comfortable environment after renovations are complete.
Plans for the renovation have been submitted and Champion Property Improvement of St. Paul Oregon will begin construction in April 2014. Later improvements to the new outdoor dining area will include additional bathrooms, an outdoor bar, a walk-in cooler, and a secondary kitchen. These improvements will further enable the Joel Palmer House serve its guests and remain a world-class destination restaurant and special event and wedding space in the heart of Oregon's wine country.
About The Joel Palmer House Restaurant
The Joel Palmer House's innovative and exciting menu features choice local produce, wild mushrooms and Oregon truffles. Chef Christopher Czarnecki and family strive to incorporate seasonal ingredients and use many locally grown vegetables, including many from their own on-site garden. Chef Christopher Czarnecki has created a tantalizing, creative menu that marries perfectly with the world renowned Pinot Noir of Oregon's Willamette Valley. Of note, the Joel Palmer House ranks as one of Oregon's finest historic homes and is on the National Register of Historic Places and the Oregon Historic Register. Built in 1857, the house is Dayton's oldest standing structure. When weather permits, guests can enjoy their dinner on our outdoor patio, soaking in the last rays of sunshine in the heart of Oregon Wine Country.