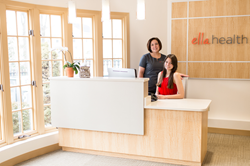 Our goal is to not only provide the best care to women but also to give them a signficantly better experience and empower them to take charge of their health.
Westport, CT (PRWEB) April 01, 2014
Ella Health, a 3D mammography and women's physical therapy provider focused on promoting women's wellness, has opened a new center conveniently located in the heart of Westport, CT.
Ella Health combines the most advanced technology available with highly skilled, caring staff to give patients personalized care in a comfortable setting that is more like a spa than a health care facility.
"Our goal is to not only provide the best care to women but also to give them a significantly better experience and empower them to take charge of their health," said Ella Health CEO Melissa Dyrdahl. "We are thrilled to be opening in Westport and looking forward to becoming a part of the community."
Advanced Breast Cancer Screening
Ella Health offers digital 3D mammography, which improves breast cancer detection and reduces false positives that result in unnecessary call backs. During imaging, the X-ray arm sweeps in a slight arc around the breast, taking multiple images. With 3D, radiologist can review the images one thin slice at a time to look more closely at suspicious areas to determine whether they are of concern or not. For women with dense breasts, Ella Health offers Automated Breast Ultrasound. This quick and painless system to image dense breasts has been shown to find up to 30 percent more cancers in women with dense breast tissue.
Along with the advanced technology, the center features warm cloth robes, private dressing rooms and heated exam rooms to make women more comfortable. Ella Health also offers convenient scheduling, on-time appointments and quick results, often within one business day.
Physical Therapy Designed Just for Women
Ella Health's physical therapy programs for women focus on life events including pregnancy and postpartum, injury, surgery, cancer recovery, osteoporosis and pelvic health issues. Physical therapists who have special training and certification in women's health care develop personalized programs based on the individual needs of each patient. The physical therapy programs combine proven practices with advanced technology including a video bio feedback system that makes exercising more efficient. The centers are designed by women for women and physical therapy is provided in a comfortable and private setting.
"Ella Health brings an innovative perspective to health care. Women are more likely to adhere to recommendations for mammography and other necessary medical care if it is in a warm spa-like environment, rather than the typical cold and intimidating healthcare setting," said Adam Ofer, MD, of Avery Center for Obstetrics and Gynecology. "As a physician, I'm excited that my patients will have access to the most advanced mammography available in a setting that will encourage them to get the exam. I am also thrilled that we finally have a place to send our female patients for advanced physical therapy that specifically addresses the health needs of women in a proactive and noninvasive way. About half of women have problems with urinary incontinence at some point in their lives. When those symptoms arise, the first step should be strengthening the pelvic floor rather than medications or surgery and the best way to avoid those common problems is to prevent them with proactive pelvic floor strengthening before any potentially embarrassing leakage even starts."
Appointment requests can be made on line at ellahealth.com.