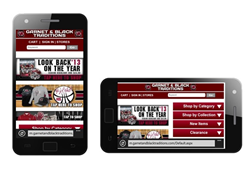 ...increase mobile conversions up to 109%
Vancouver, BC and New York NY (PRWEB) March 31, 2014
UniteU, omnichannel commerce platform provider and leading Retail Pro eCommerce integrator is excited to announce an exclusive webinar featuring guest speaker Forrester Research, Inc., VP and Principal Analyst Peter Sheldon entitled Debunking Responsive Mobile Myths & Misconceptions. The webinar will reveal the latest research from Forrester on mobile commerce trends and the best practices from UniteU on strategies and technologies leveraged by leading retailers.
"With eCommerce traffic from mobile devices skyrocketing to 50% or more, the majority of retailer and brand sites are unprepared, and their mobile conversion numbers show it," said Soumen Das, Founder and CEO of UniteU. "Many retailers fall prey to common misconceptions about mobile commerce and those misconceptions are holding them back from recognizing the conversions they're looking for."
Responsive Web design (RWD) is the way of the future, but many companies have failed to implement an effective strategy. An interviewee in the Forrester Research, Inc. report entitled "Solving the Quandary of Responsive Design" (November 2013) states that, "The professional community is behind RWD 100%, but [the] adoption problem lies in convincing the end user that it's worth it to take all the extra time upfront." This webinar will address the concerns of the retailer and discuss real strategies that debunk the most common myths surrounding responsive design strategy including:
1. Responsive designs are heavy and cause performance issues
2. Implementing and maintaining responsive design is time-consuming and overwhelming
3. Responsive design always means a single site not an m. and www .
4. Having separate m. and www . negatively effects SEO results
5. A single code base supporting desktop, tablet and mobile devices is easier to manage and poses less risk.
UniteU will discuss technology and implementation strategies that leverage both responsive and adaptive technologies to make mobile sites lightning fast while keeping them optimized for search, and keeping design and content manageable. UniteU will use case study data that exhibits increased mobile conversions of up to 109%.
To register for the webinar visit https://www1.gotomeeting.com/register/115626089
About UniteU Technologies (http://www.uniteu.com):
UniteU creates digital commerce technology that allows retailers and brands to provide unified buying experiences across channels and devices. UniteU offers a suite of enterprise-class eCommerce and in-store solutions including Hybrid Responsive Mobile™, uMobile POS™ and UniteU Commerce™, an on-demand digital commerce platform that embodies more than a decade of multichannel insights and high-volume experience. Superior technology and performance has resulted in an impressive client list that includes Joe's Jeans, Pharmaca, The Miami HEAT, In-N-Out Burger, Shoe Station and City Sports.