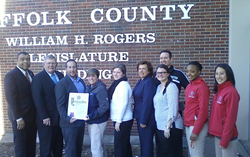 Athletic Trainers (ATs) strive to provide excellence in healthcare for those participating in athletic activity.
Albany, NY (PRWEB) April 01, 2014
For the second consecutive year, March - which is formally recognized as National Athletic Training Month (NATM) nationwide - has also been officially proclaimed as Athletic Training Month in New York State for 2014. The Resolution, sponsored by NYS Assemblyman Charles Lavine (D-Long Island) and Senator Mark Grisanti (R-Buffalo) will be signed by Governor Andrew Cuomo and presented to NYSATA in April.
The theme for NATM 2014 is "We've Got Your Back" and the NYS resolution supports this ideal. The resolution recognizes that, "Athletic Trainers (ATs) strive to provide excellence in healthcare for those participating in athletic activity; remain on the front line of emerging research concerning health [issues] such as concussions, heat illness, and performance enhancing drugs; and work to educate the community on methods and techniques used to decrease the risk of injuries and illnesses occurring to athletes and other physically active persons."
In addition to the NYS Resolution, two local Proclamations were secured this year on Long Island in recognition of National Athletic Training Month in NYS. On March 4, 2014 the Town of Huntington Board, led by Supervisor Frank Petrone, signed a Proclamation recognizing March as NATM and recognizing their local ATs for providing quality sports healthcare. Suffolk County Legislator William Spencer (18th district) signed a Proclamation on March 18, 2014 in appreciation of NYSATA and recognition of March as NATM.
Other legislative outreach in recent weeks has been aimed at continued lobbying for the AT bills, A6678 and S4465, currently in the NYS legislature. Athletic trainers have been attempting to contact their local legislators, with a focus on Higher Education Committee members in each house. These efforts were ramped up during NATM with a Legislative Letter Writing Campaign, which will continue through the end of the legislative session in June.
In addition, NYS athletic trainers have been inviting their local legislators to visit athletic training rooms in their district so they can see, first hand, what ATs do on a daily basis. Most recently, there was a visit by our Assembly bill sponsor Charles Lavine's lead legislative aid, Steve Friedman, to the University of Albany for a men's basketball game on February 27th hosted by their Head Athletic Trainer, Jay Geiger MS, ATC.
During the fall sports season, Assembly member Barbara Lifton (D-Cortland) visited athletic trainers at Ithaca College and Senator Michael Ranzenhofer and Assemblyman Raymond Walter visited athletic trainers at Sweet Home High School near Buffalo, NY. All three legislators have since signed on a co-sponsors to the AT bills.
The need for an update to the NYS AT practice act is due to the current NYS legislation being over twenty years old and not reflecting the evolution of the AT profession. The current language is limiting and terminology needs to be updated so that ATs can manage sport-related injuries and conditions that they are educated and trained to perform, including concussions, and work in NYS in the many settings that can benefit from the services of ATs. This legislation will also gain licensure for the AT profession, an upgrade from the current NYS Certification. This will require every practicing athletic trainer in NYS to meet strict licensing requirements, therefore further protecting the public from AT-related services from unqualified individuals.
Grassroots efforts will continue in the coming months on this issue, including a Lobby Day in Albany on May 21, 2014. During this annual event, NYSATA members meet face-to-face with legislators to provide information and awareness about the AT profession and, in recent years, reinforce the importance of this legislation, answer questions, and ask for support.
Anyone who knows a certified athletic trainer, or has experience with the work that ATs do, can also help by contacting their local legislators to ask for their support of these bills. For more information, please visit: http://www.gonysata2.org/government-affairs/.
NYS physicians who work closely with ATs and/or know the role they fill within sports healthcare are also being asked to sign a Physician Petition on behalf of ATs and the AT bills. The hope is that a solid petition will help garner support in the medical community with those who have not had the opportunity to work with athletic trainers in their daily practice.
NYSATA, founded in 1976 and incorporated in 1989, stands to advance, encourage and improve the profession of athletic training (AT) by developing the common interests of its membership for the purpose of enhancing the quality of healthcare for the physically active in New York State. Athletic training is practiced by certified athletic trainers (ATs), who have expertise in the assessment, emergency management, rehabilitation and prevention of acute and chronic sport-related injuries, illnesses and conditions, including concussions. Comprised of over 1,200 certified and practicing athletic trainers, NYSATA is the state-wide affiliate of the regional Eastern Athletic Trainers' Association (EATA) and District Two of the National Athletic Trainers' Association (NATA).