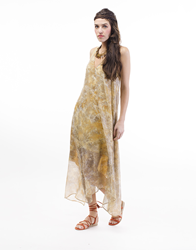 VallarinoSaltonstall was founded with the objective to create extraordinary apparel, unique hand painted fabrics and unconventional tailoring.
New York, NY (PRWEB) March 31, 2014
April 3 thru April 30th: RSPOP Shop announces a month long showcase of NY based fashion talent. The collaborative pop-up shop is organized and run by New York luxury independent label Vallarino Saltonstall and offers a finely curated array of accessories, jewelry, and shoes. Customers will have the chance to meet the designers while shopping a handpicked selection of exclusive items at the VIP Opening Reception on Thursday, April 3rd from 6-8pm. RSVP here.
Vallarino Saltonstall's Spring 2014 collection features the exclusive, one of a kind, hand painted prints and colors that the label is known for. The relaxed and airy silhouettes such as long maxi dresses, in stunning combinations of colors will provide a shopping experience like no other. The Vallarino Saltonstall Pop Up is the label's initial introduction to a hybrid boutique / custom line presentation where customers can be immersed in the brand, alongside a carefully curated selection of complimentary hand crafted fashion items including bags, jewelry, and Bhava footwear.
Details:
Who: VallarinoSaltonstall / BHAVA Pop-Up Shop
When: April 3-30th, 2014
Where: RSPOP Shop at 501 Lexington Avenue, NYC
Trains: 4,5,6,7 to Grand Central or the E,M,6 to 51st Street
Hours: Monday-Friday 10am-8pm; Saturday 11am-7pm; Sunday 12pm-7pm
About the designers:
Vanessa Vallarino and Hattie Saltonstall comprise the team behind up-and-coming American fashion label Vallarino Saltonstall. Hailing from the New York area, the two met at The Savannah College of Art in Design, both majoring in Fashion Design. After taking separate directions within the industry, Vallarino in textile/print design at Li & Fung, and Saltonstall in production at Badgley Mischka, the meeting of the minds formed Vallarino Saltonstall.
Vallarino Saltonstall reflects the ladies' steadfast beliefs in quality and intimacy. Sustainably minded, the designers work hard to minimize waste in terms of fabrics and/or resources within production, use all organic materials, and choose to hand-dye and paint all of their own fabrics. From start to finish, such time, care, and handmade love seep through each thread. Their garments are constructed with unconventional tailoring to play off the body's natural shapes and angles, giving a fresh feminine twist to modern silhouettes. Moreover, the clothing offers a variety of ways of wear; right side up, upside down, inside out, or backwards, the garments function as fluidly as the hand-dyed patterns themselves.
Producing wearable art is no easy task, but Saltonstall and Vallarino seem to do it effortlessly.
Social Media
Instagram – VallarinoSaltonstall
Hashtag for Pop Up - #Spring4midtown#vspreview#popup
Facebook – Vallarinosaltonstall
Twitter – VanessaHattie
Tumblr – VallarinoSaltonstall
Pinterest- VallarinoSaltonstall